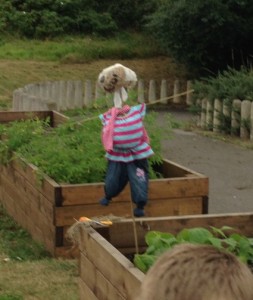 Researchers from the Faculty of Health and Social Sciences, Fotini Tsofliou, Angela Turner-Wilson, Anne Mills and Juliet Wiseman, working in collaboration with Sarah Watson (Sustainable Food City Partnership) received a Grants Academy Pilot Scheme Award from BU. This funding has enabled us to undertake some exciting new work in the field of Community Food Programmes (CFP). These are widely used services that support people to access food. However at present there is little information from the users on the role of CFPs in building the capacity of the community towards healthy eating.
Focus groups provided fascinating insights into people's views around food growing in the community. For example, participants said:
"it's (community gardens) really good for your mental health, your physical health, growing things and for the children as well 'cos a lot of children think peas come from a pan or from the freezer."
"they (children ) enjoyed harvesting."
"yes and they've (children ) learnt they can and they've eaten them"
"if it brings people together kids take ownership of it"
Work continues with gaining understandings of the role of cooking classes and lunch clubs in relation to community's health and wellbeing.