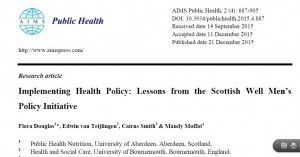 Our latest paper and the last one for 2015, published the day before Christmas.  The paper 'Implementing Health Policy: Lessons from the Scottish Well Men's Policy Initiative' appeared in AIMS Public Health [1].  The paper draws on evaluation research led by Dr. Flora Douglas (University of Aberdeen).  This was a set of evaluations of the Well Men's Health projects which were part of an initiative running in many health regions (or health boards as they are called in Scotland).
The focus of this particular paper centres around the fact that little is known about how health professionals translate government health policy into action [2]. Our paper examines that process using the  Scottish Well Men's Services policy initiative as a 'real world' case study [1]. These Well Men's Services were launched by the Scottish Government to address men's health inequalities. Our analysis aimed to develop a deeper understanding of policy implementation as it naturally occurred.  We used an analytical framework that was developed to reflect the 'rational planning' principles health professionals are commonly encouraged to use for implementation purposes.
Our analysis revealed four key themes: (1) ambiguity regarding the policy problem and means of intervention; (2) behavioral framing of the policy problem and intervention; (3) uncertainty about the policy evidence base and outcomes, and; (4) a focus on intervention as outcome. This study found that mechanistic planning heuristics (as a means of supporting implementation) fails to grapple with the indeterminate nature of population health problems. A new approach to planning and implementing public health interventions is required that recognises the complex and political nature of health problems; the inevitability of imperfect and contested evidence regarding intervention, and, future associated uncertainties.
The paper is published in an Open Access journal, so it is easily and freely available to public health professionals, policy-makers and health workers across the globe.
Prof. Edwin van Teijlingen 
CMMPH
Reference:
Douglas, F., van Teijlingen, E., Smith, W.C.S., Moffat, M. (2015) Implementing Health Policy: Lessons from the Scottish Well Men's Policy Initiative, AIMS Public Health 2 (4): 887-905. http://www.aimspress.com/article/10.3934/publichealth.2015.4.887/fulltext.html
Killoran, A., Kelly, M. (2004) Towards an evidence-based approach to tackling health inequalities: The English experience. Health Education Journal;63: 7-14.