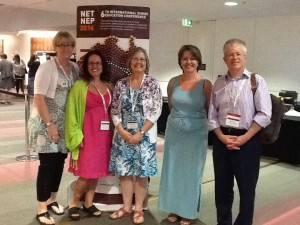 Four academics, Dr Susan Way, Dr Vanessa Heaslip, Ashley Spriggs and Dr Dawn Morley, from FHSS are presenting papers at the Nurse Education Today / Nurse Education in Practice Conference this week, 3rd – 6th April, in Brisbane. The conference is recognised as a leading nurse education event where cutting edge research and innovation ideas from across the world are disseminated. This year the conference has been expanded for the first time to include Midwifery Education.
The title of Dr Susan Way's presentation is, 'Leading with a SMiLE: Exploring a student-led clinic, practice education model for educational impact and service improvement'. The Student Midwives integrated Learning Environment (SMiLE) offers an alternative, reliable and collaborative student-led clinic practice education model for equipping midwives of the future with the knowledge, skills and competencies they will need to provide safe and effective postnatal care, to mothers, babies and their families. Early service evaluation of the clinic suggests that students found it benefitted their learning, built their confidence and gave them opportunities to develop their postnatal skills. Peer learning and teamworking relationships were also improved.
Dr Vanessa Heaslip and Ashley Spriggs present their collaborative study entitled "humanising the interview process"; an evaluation of service user/carers contribution to value based recruitment in a pre-registration adult nursing programme. The mixed-method evaluation analysed the perspectives of differing stakeholders (Candidates, SU/Carers, Academics and Practice Partners) regarding the role SU/Carer engagement in Adult Nursing Pre-registration interviews. Early findings from candidates have highlighted they value the involvement of SU/Carers in the interview process, SU/Carers add a "human dimension" ensuring a focus on the heart of nursing and its value base rather than the role of nursing and associated nursing tasks.
Dr Dawn Morley's presentation focuses on the 'ebb and flow model of mentoring students in practice'. Twenty one first year student nurses interviewed were insightful as to how their practice learning experience could be improved on their first placement.
The findings of her research highlighted the importance of consistently working with an expert who could encapsulate the "whole" of professional practice but who could also question and coach students through their learning experiences. The research suggested that this was best achieved through an "ebb and flow" model of mentorship where student and mentor were constantly negotiating short term learning goals and opportunities together that accommodated the challenge of workforce demands. By working and learning in this organic manner students were party to the professional decision making and observation of qualified nurses and were educated to a critical decision making level from the earliest opportunity in their clinical practice.
Professor Steve Tees, Executive Dean of the Faculty was also at the Conference in his capacity as one of the Editors of Nurse Education Today journal.