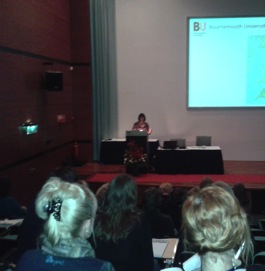 At the end of November Stella Rawnson and Catherine Angell (both Senior Lecturer in Midwifery at BU) attended the European Midwives Association Education Conference in Maastricht, the Netherlands. This two-day event brought together 300 midwife educators from universities across Europe, from Norway to Greece and Ireland to Hungary.
Stella presented 'The best people for the job' which focused on our experience of introducing new methods for assessing the suitability of applicants to BU's BSc Midwifery programme. This generated a considerable amount of interest and discussion. It was clear that student selection was an issue for educators from a wide range of countries, both in terms of identifying competence in numeracy and literacy but also assessing applicants' communication and 'people skills'.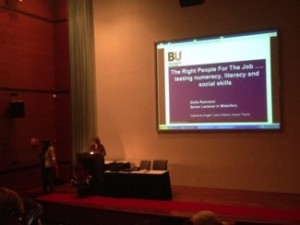 Catherine's presentation was entitled 'Loosing the luggage; strategies that enable effective learning around infant feeding for student midwives'. This identified how we have used education theories to develop a programme that enables students to 'unlearn' negative or unrealistic ideas about infant feeding before embarking on new learning around this subject. This fitted well with a key theme that emerged from the conference relating to the role of emotion in enabling and blocking learning.
The conference included keynote presentations from Prof. Cees van der Vleuten, who spoke about evaluation and assessment of health sciences students, and Prof. Raymond DeVries who discussed the value of academic skills in midwifery. The conference highlighted the considerable differences in terms of length of midwifery programme, entry route and content between different countries in the EU. However, it also enabled us to learn from sharing some of the challenges that we experience in areas such as recruitment and assessment, and in terms of developing curriculums against shifting models of care and changing political priorities. Naturally it also provided an excellent opportunity for networking and identifying potential collaborations.