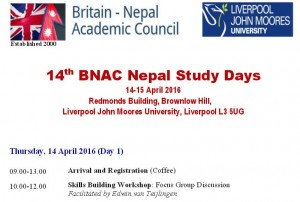 At the 14th BNAC (Britain-Nepal Academic Council) Nepal Study Days starting tomorrow (14th April 2016) FHSS's PhD student Jib Acharya will presenting his poster on 'A Comparative Study on Nutritional Problems in Preschool Aged Children of Kaski district of Nepal'.  Jib's PhD project is supervised by FHSS's Prof. Edwin van Teijlingen, Dr. Jane Murphy and Dr. Martin Hind.  Prof. Edwin van Teijlingen is also joint supervisor of Sarita Pandey (based at the University of Sheffield) whose poster 'Factors that promote and hinder provision of maternal health services by Female Community Health Volunteers (FCHV) in rural Nepal' will also be on display.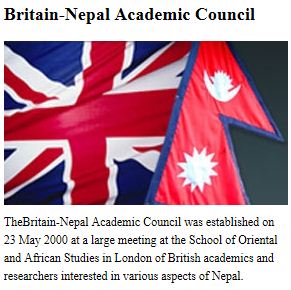 BU Visiting Faculty Dr. Bibha Simkhada (based at Liverpool John Moores University) will be presenting on the on-going THET-funded project 'Mental Health Training and Education in Nepal'.  This paper is part of the education stream of the conference,and its acceptance is a reflection of BU's reputation in Educational Research.  This paper has co-authors based in the UK and Nepal: Bibha Simkhada, Edwin van Teijlingen, Jillian Ireland, Padam Simkhada, Bhimsen Devkota, Lokendra Sherchan, Ram Chandra Silwal, Shyam K. Maharjan, Ram K. Maharjan, Geeta Sharma, and Samridhi Pradhan.  Both Prof. Padam Simkhada and Ms. Jillian Ireland are BU Visiting Faculty.
The first Study Day tomorrow starts with an invited Skills-building session on Focus Group Research by Prof. Edwin van Teijlingen.  The final day includes a paper on 'Impacts of Migration in Nepal' by Prof. Padam Simkhada and Prof. Edwin van Teijlingen.
We are hoping to get the 15th BNAC Study Days to Bournemouth University for this time next year!
Prof. Edwin van Teijlingen
CMMPH