Last week I attended the 20th European Congress of Physical and Rehabilitation Medicine (ESPRM) in Estoril, which covered topics from functional gait analysis-to-household ergonomics. By the morning coffee break of day one, it came back to me that engaging in a conference is an art-form. In this brief report I hope to share some tips, based on my own experiences in academia.
Beforehand, workload-dependent, leave all mobile technologies and laptops in your room. Emails can wait until the day's end and social media will only serve to distract (Quentin Tarantino bans mobile phones from his film sets, so there).
Firstly, register early and familiarize yourself with the layout of the conference centre. Stop for a coffee; premium-grade typically dispensed by the sponsor's kiosk.
Secondly, take the time to read the programme, and map your 'conference schedule' (i.e., what sessions you intend to attend). Breakfast presents a fine opportunity for planning, on a day-by-day basis. Schedule planning is important for larger meetings, which can deliver many parallel sessions. Attend a conference with an aim(s). Be strategic; balance topics specific to, and outside your research area. For example, I attended i) functional mobility in older adults (subject-specific), ii) Cochrane Review/PGR development (non-specific, CPD), iii) cognitive dual-tasking (semi-specific, interest), and iv) Nordic walking (personal interest) sessions. Specialist workshops, such as ECR sessions, are gold-dust as you gain insight from international perspectives and practices. I also recommend not studiously attending every single session; I did this in my first conference and burnt out post-coffee break on day two. Don't feel guilty missing a session if you feel it holds no relevance to you (or your personal development), otherwise you risk losing concentration on the sessions you are interested in. Stop for a coffee.
Thirdly, relax, enjoy yourself and don't be afraid to talk. You can often learn more (and establish links) during coffee breaks, than in the sessions. Yes, you are at work, and yes, you may be abroad, but don't fall into wi-fi hunting. Ultimately, you will check, and respond to, emails. You can do this back home. Engage with the academic and local cultures. Remember wi-fi may be omnipresent, but it wasn't until about 6 years ago.
Finally, ask constructive questions. If presenting, welcome questions as they reflect an interested audience, and may highlight areas that you haven't yet considered. Do not view negative/antagonistic questions as a challenge, they may not agree with your perspective and/or may have misinterpreted you. Data rigour and quality control are imperative, but findings may be serendipitous.
If you can master these, please tell me how, as I'm still learning.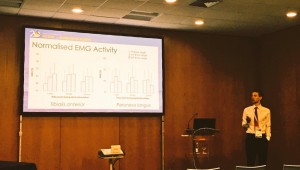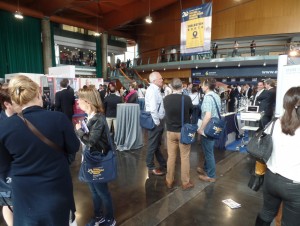 Dr James Gavin
Lecturer (Exercise Physiology)
Department of Sport & Physical Activity
jgavin@bournemouth.ac.uk