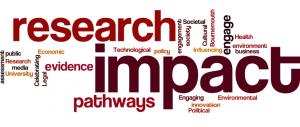 Join us to take a closer look at how research can have an impact beyond academia, and the ways in which this can be achieved.
From Monday 23 – Friday 27 May, we'll be
exploring the various pathways to achieving
societal and economic impact through a
selection of seminars and workshops.
We will be joined by some fantastic external speakers such as Dr Steve Cross, a public engagement expert, and Bokani Tshidzu, a consultant specialising in impact evidence. At the end of the week, you are invited to take part in a celebration of research impact at Bournemouth University.
Come along to as many events as possible to explore how you can effectively engage with a variety of research users, and to find out more about methods for developing and evidencing impact.
These events are aimed at all academic staff members, early career researchers, postgraduate students and professional services staff who support impact across the university.
Monday 23 May
What's in it for me? Impact that makes a difference outside academia and supports your career
Dr Steve Cross, Wellcome Trust Public Engagement Fellow & former Head of Public Engagement at UCL
12.30-14.00 | Talbot campus
Find out more and book now via Eventbrite
H2H – bringing research to life (Human2Human). A business networking event on the topic of virtual and augmented reality
Facilitated by Jayne Codling, Rachel Clarke and Charlene Steele
14.30-16.00 | Talbot campus
Find out more and book now via Eventbrite
Tuesday 24 May

Using the media to generate research impact
Nathaniel Hobby, Emma Matthews and Dr Sarah Bate
12.30-14.00 | Lansdowne campus
Find out more and book now via Eventbrite
Smart cities sandpit
Facilitated by RKEO, supported by Borough of Poole
09.30-16.30 | Lansdowne campusFind out more
Wednesday 25 May
Influencing public policy with research
Jane Forster and Emma Bambury-Whitton
13.30-14.30 | Talbot campus
Find out more and book now via Eventbrite
Thursday 26 May
Influencing public policy with research
Jane Forster and Emma Bambury-Whitton
12.30-13.30 | Lansdowne campus
Find out more and book now via Eventbrite
Using the media to generate research impact
Nathaniel Hobby, Emma Matthews and Dr Sarah Bate
13.30-15.00 | Talbot campus
Find out more and book now via Eventbrite
Friday 27 May 
Collecting evidence of research impact
Bokani Tshidzu, Chief Operating Officer of impact consultancy Vertigo Ventures
12.00-14.00 | Talbot campus
Find out more and book now via Eventbrite

Celebrating research impact at Bournemouth University
Facilitated by Dr Sarah Bate and Dr Zoe Sheppard
14.30-16.00 | Talbot campus
Find out more and book now via Eventbrite