Join us on Monday 23rd May at 12.30pm as Dr Steve Cross discusses "What's in it for me? Impact that makes a difference outside academia and supports your career."
Dr Steve Cross has spent eight years supporting university researchers to engage with communities outside academia to help their research have impact. He was Head of Public Engagement at UCL for seven of those years, and understands that it can be difficult to balance research and teaching commitments alongside developing the skills and networks needed to support your research impact. His talk will be ripe with examples of collaboration between academics and communities which have led to benefits to the non-academic world as well as improving research careers.
Steve is a Wellcome Trust Public Engagement Fellow and a public engagement and communication consultant, trainer and strategist.
The session will take place in the Shelley Lecture Theatre, Poole House, Talbot campus from 12.30 – 14.00. Steve will talk for around an hour, and there will be 30 minutes at the end for questions and further discussion. Please do bring your lunch along.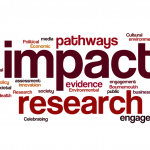 This session forms part of a series of research impact seminars and workshops, organised by RKEO to explore the various pathways to achieving societal and economic impact.  Within the series, attendees will explore methods for effectively engaging a variety of research users throughout the research process, and develop new ways to plan, deliver and evidence impact.
View the other events in the series or email Genna West for further information.