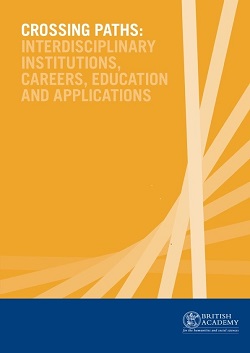 The British Academy has today published a report examining the opportunities and barriers to interdisciplinarity, from the point of view of all research career stages and institutional levels.
Crossing paths: interdisciplinary institutions, careers, education and applications considers support for interdisciplinary research (IDR) across the UK's research and higher education sector, with a focus on university structures, funding, and evaluation. Case studies on interdisciplinarity at the undergraduate level and on how interdisciplinary research can influence public policy are also provided.
Finding broad and deep support for IDR, Crossing paths makes recommendations to allow researchers, including those early in their career, to pursue high quality IDR alongside, or as part of, cultivating an academic home, a secure base from which to carry out IDR.
The report is based on a call for evidence as well as roundtable discussions and visits to interdisciplinary research centres at UK universities.
Professor Roger Kain FBA, VP for Higher Education and Research at the British Academy, said:
"This report tackles an important topic at a turbulent time for the UK's higher education sector, which is being encouraged to place an even greater emphasis on IDR. The opportunities for IDR are enormous, enabling researchers to unpick some of society's most complex challenges and bringing greater rigour to our understanding of our own disciplines. Adopting the recommendations in this report would mitigate some of the risks that currently exist to pursuing it."
The full report is available to download at www.britishacademy.ac.uk/interdisciplinarity