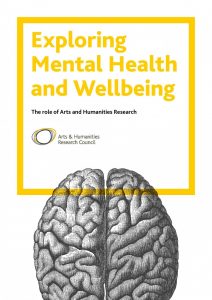 A new report, Exploring Mental Health and Wellbeing, published by the Arts and Humanities Research Council highlights the important role that arts and humanities based research can play in helping to address complex issues around mental health.
The report brings to life a wealth of case studies that are contributing to the mental health debate. These include examining the work of academics at the University of Cambridge who are pioneering an innovative design of a personalised fragrance dispenser to help manage anxiety to a project being managed by the University of Essex to educate policy-makers on the issues surrounding impaired decision-making capacity.
Research around mental health is focused around developing a cross-disciplinary approach – and arts and humanities scholars have a key role to play. The AHRC has funded research in many different aspects of mental health research in recent years, with an investment of over £10m in seventy-six projects since 2010.
The new cross-disciplinary mental health research agenda sees the UK's seven research councils joining forces to collaborate on mental health research. Published in August this year, the agenda paves the way for cross-council collaboration on mental health, highlighting the importance of including the arts and humanities in this area of research.