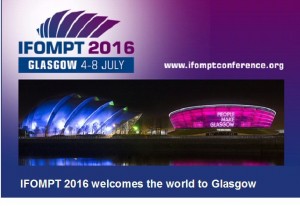 I was delighted to present this month at a large international conference, IFOMPT 2016, in Glasgow. The International Federation of Orthopaedic Manipulative Physical Therapists (IFOMPT) is an international body composed of many national groups specialising in post-graduate musculoskeletal physiotherapy. This is the first time the IFOMPT Conference, which is held every four years, has been hosted in the UK since 1988. This conference presented an ideal opportunity to promote the reputation of BU, the new Orthopaedic Research Institute, and AECC (where the research was undertaken).
I gave a poster presentation on work related to my PhD research into the mechanism of spinal manipulation in the treatment of neck pain. I was really pleased that there was a good bit of interest in the poster and I made useful contacts in Japan, China, USA – and Bournemouth! I was able to tempt some people I admire to my poster by posting the picture below on Twitter and sending to the Twitterati I knew were at the conference – social media works (I was not begging for attention, honest).
The other cool bit of technology I used for the first time at this conference was the conference app – no conference abstract booklet to have to carry around in a tacky conference bag for a couple of days.
The app had everything – the full itinerary, abstracts (including those of the 190 posters), and there were biographies and contact details for all the speakers and most of the delegates too. Networking can be exhausting and intimidating – this enabled me to contact people directly whom I wanted to discuss my research with and contributed to an excellent conference experience.
If you'd like to know more about the conference, or my research into the mechanism of spinal manipulation, please don't hesitate to get in touch. (You can get a copy of my poster by clicking here).
Dr Jonny Branney
Faculty of Health and Social Sciences
jbranney@bournemouth.ac.uk