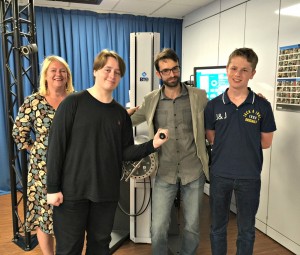 The Faculty of Health & Social Sciences (FHSS) has been hosting four Nuffield Foundation-funded college students this summer as part of Nuffield's Research Placement programme. Two of the students (Jamie Singleton and Freddie Corrie-Deane) are working under the guidance of FHSS PhD student Francesco Ferraro, who is supervised by Professors Alison McConnell, Tom Wainwright and Dr James Gavin.
Jamie and Freddie joined us on the 25th of July and they are already familiar with many research aspects, such as: writing a review, dealing with ethical issues, using complex devices and tackling statistical issues.
Francesco has found the experience of working with the students rewarding from many perspectives: "I do trust their questioning and their will to learn and understand more, as it will help the project adding new questions. Conducting research is not simply a duty to search for results; producing research involves the ability to share it, by allowing others to join, bringing their own curiosity and surprise".
A quote from Richard Feynman sums up the project so far "I would rather have questions that can't be answered than answers that can't be questioned."
Here are a few thoughts from those involved in Freddie and Jamie's Nuffield placements:
"Joining a research study, I knew I was in for a hefty chunk of reading, and with a pessimistic outlook I thought it would all be dry and bland, and that it would be the source of countless days of boredom. Thankfully I was wrong, and while I did have to spend an obligatory day or two reading background information, studies and manuals; the rest of this placement has been involved with the workings of brand-new machinery in the Orthopaedic Research Institute and going out into the local community to talk with people, both of which have been challenging and engaging in all of the right ways to make this experience an enjoyable one.
Our engagement in the community started very early into the placement, on the second day in fact, when we tagged along with Francesco (Our PhD Student overseer/mentor) to an area of sheltered housing to help him give a talk on his study, it was some really good hands on experience (it didn't hurt that we were offered a biscuit or two). Following this line of talking to people, Jamie and I have spent the last couple of days walking around the gardens by the seaside talking to people and filling out surveys.
We have also spent a day or two engrossed in the outstanding labs in the Orthopaedic Research Institute, equipped with an amazing range of equipment from a pair of surgery VR simulators that bring in experts and surgeons from all over Europe, to the intricate and ever useful Primus Machine which has more potential and customisable positions than there are hours in the day and so understandably has just as many uses."
"During the past two weeks at Bournemouth University, we have had lots of hands on experience and witnessed the fun sides of research and also, the not-quite side. The latter, quite funnily enough, involved vast amounts of background reading and studying of protocols. The more enjoyable hands on experience however, consisted of being introduced to and working in the Orthopaedic Research Institute Labs testing out protocols.  Much to our disappointment… we had to use numerous fun and expensive pieces of equipment, it was at this point we knew this was the right place to be.
Amongst playing around with expensive machinery such as the PrimusRS and the Virtual Reality machines, we got to do some real work. This work was tough yet enriching and consisted of explaining what the research was about and why it is essential to a sheltered community, and of course when asked, accepting the offer for tea and biscuits. Visiting the shelter did give me an insight into the recruitment process for research projects, and I was quite surprised of how laid back it was.
Next, this time for real we did have work to do such as reading protocols, resources, and informative documents needed to produce our review which was not the most exciting experience however, it was made up for by the interesting walks we went on, through the Lower Gardens, in order to gather vital information that we needed for our project analysis of the PASE questionnaire."
"I was really excited to visit our Nuffield students who are working with Francesco Ferraro at Bournemouth University. I was particularly keen to see how they have been integrated into the team working on a real life application. I was surprised by the highly technical, world class, equipment available to the team. I was also surprised to see how health care is being 'gamefied' with the balance app and the 'Grail'. Thank you for having us."
Rachel Delourme (STEM Advisor & Sustainability Co-ordinator at Cornwall Council) and Shayan Bahadori (from Nuffield Foundation).
"Freddie and Jamie have been a huge asset to Francesco's work over the past couple of weeks. They have worked together as a team to solve problems and test solutions, and I can see how all three of them have benefitted from the experience. I'd recommend hosting Nuffield placement students to anyone; they've been a pleasure to have around and they've both made valuable contributions to our work."