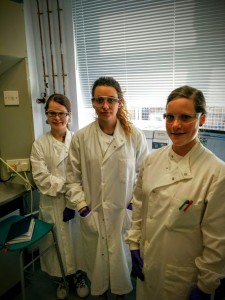 During the last 4 weeks, Sophie and Rose (left and middle in the picture), two AS level students, have spent their summer holidays gaining hands-on laboratory research experience at BU during their Nuffield Research Placement. Together with Dr Simon Dyall and PGR Isabell Nessel (right in the picture), they have worked on a research project which is investigating ways to increase the intake of omega-3 and omega-6 polyunsaturated fatty acids in preterm infants.  Rose and Sophie have been helping to develop and validate a method to measure the fatty acid content of preterm formula milks by using gas chromatography (see picture).
"As for the internship, I enjoyed it a lot. It was nice getting out of the classroom and working on something that had the potential to help people. I learnt a lot of new skills that'll help me when I'm writing my application for university as it will show that I already have experience in a laboratory as well as give me a head start to any laboratory work I do in my degree. It's shown that things often don't go as smoothly as planned and you have to do a lot of problem solving and repeating along the way, but it's also made clear to me that I do want to head in the direction of research in the future."  – Sophie
 "This is the first year BU has offered Nuffield Research Placements and Sophie and Rose have been excellent students. The Placements give students the opportunity to get hands-on experience of working in a research environment, meet new people and learn new skills, and importantly help them decide if a degree in a STEM (Science, Technology, Engineering and Mathematics) subject is right for them. It has been a pleasure to host Sophie and Rose this year, and they have been of great help to our work." – Simon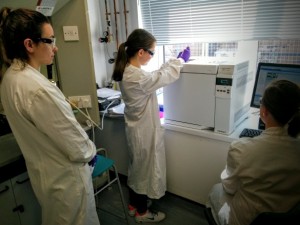 "For me it was an excellent opportunity to develop my mentoring skills, get the chance to inspire younger students for a career in research, and getting some extra helping hands for my project. The girls were eager to learn and motivated for the lab work and I wish them all the best for their studies. Overall, it was a nice experience which I would recommend to other PGRs and their supervisors." – Isabell
Many thanks to Sophie and Rose for their help and to the Nuffield Foundation for the organisation of the placements!
The Nuffield Foundation offers Nuffield research placement for motivated students during the summer holidays to discover what a career in STEM might look like. If you would wish to find more about the program or think of offering a placement yourself next year please click here.
If you would like to learn more about our research, please feel free to contact me at inessel@bournemouth.ac.uk
Isabell