BU have been involved recently in developing volunteer programmes, based around the 2012 Games Makers, to give students experience of being involved in large scale events. This past weekend Bournemouth Tourism has hosted the annual Air Festival for the 9th time and Dr Debbie Sadd from the Faculty of Management, has again led the team of Festival Makers sponsored by BU. The Festival was this year hit by bad weather but the volunteers were busy all 4 days helping the organisers, including a 'pilots signing' which took place Saturday when the flying was cancelled. Members of the public are also volunteering within the scheme, they just have to undergo training here at BU and be prepard to walk long distances!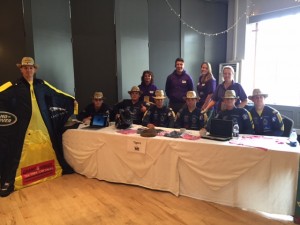 Festival Makers & Tigers Freefall team
In July Debbie also led on behalf of BU, a team of volunteers called the Farnborough Flyers at the Farnborough Air Show, the first time they have used a volunteer programme. The feedback in the press and from the organisers was fantastic and Debbie was approached by the organisers of another UK Air Festival for BU to help them design and run their own version of the volunteer programme. Watch this space!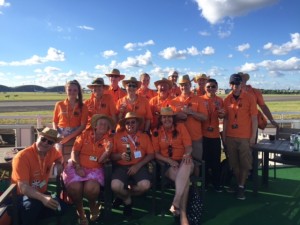 Farnbrough Flyers celebrating at the end of the Farnborough Air Show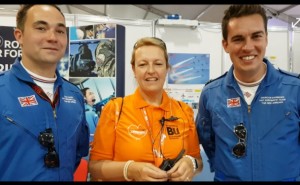 Debbie with the Red Arrows Engineering Team
Finally, the reputation of the training has now reached overseas as next month a group of visitors are coming to BU from Japan to discuss training for Tokyo 2020.
If you are interested to find out more, or would even like to become a volunteer, please contact Debbie on dsadd@bournemouth.ac.uk or Ian Jones, RegionalCommunity Engagement Manager on ijones@bournemouth.ac.uk