With the call for proposals now open for Festival of Learning 2017, we want you to get involved.
Why? There are many benefits of taking part, as the festival is an excellent opportunity to showcase your research and gain valuable feedback from members of the public. In a previous post we shared the idea of an audience-led event, which you can find here. This time we want to show you that public engagement events can also be artistic and creative.
Come to one of our drop-in support sessions to talk to us about your event idea and book your place on 'Developing a public engagement event' training session via Organisation Development here.
Moonbrella
At the British Science Festival 2016 in Swansea, Moonbrella was one of a number of interactive, drop-in sessions incorporated into an event called Creatures of the night. This took place in Plantasia – a tropical haven of exotic plants and animals. The location was unique in itself, but Moonbrella really stole the show.
Despite the fact that over 150 craters on the moon are named after real scientists, only 28 are named after women. Moonbrella showcases research through poetry, allowing participants to celebrate these inspirational women. At Creatures of the night, event attendees walked through the tropical garden, and as they began to climb towards the top of the dome they were given a 'Moonbrella' – a glowing umbrella. This owed its unusual properties to battery powered fairy lights attached inside. Additionally, there were some graphics of the scientists, and an mp3 player and headphones, which were carefully taped to the umbrella. The audience walked under the Moonbrellas, popped on their headphones and listened to poetry about a female scientist as they wandered through the tropical garden. Each Moonbrella celebrated a different scientist, and Moonbrellas could be swapped to hear about another scientist. Visually, this looked fantastic under the night sky, as the umbrellas lit up the paths between the tropical plants and for a minute it felt like you weren't in Swansea anymore.
Moonbrella is just one of many creative ways to showcase your research through the arts! Now grab a few colouring pencils, scissors and some tape and get creative!  We hope to hear more about your own amazing ideas at one of our drop-in sessions.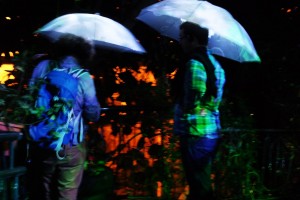 This event took place as part of the British Science Festival in Swansea, 2016.