The call for proposals for Festival of Learning 2017 is now live!
This series of blog post aims to give you some inspiration for the type of events that would work well as part of the Festival.
There are many types of events, they come in all shapes and sizes and yes, we agree… planning your own public event can be a bit of a challenge and you may not know where to start. Alternatively, you might be on the other side of the spectrum and feel that there are not enough hours in the day for you to share all of the knowledge and wisdom that you'd like the public to benefit from. Regardless of your situation, we hope you'll find this post helpful.
Have you ever thought about giving your audience the power to decide what the event is going to be about?
Audience-lead events can be a fantastic way of communicating your research and really enjoyable for the public.
Why?
Because people love to learn about what you do, but they also love to have the opportunity to ask you lots of burning questions!
Let me give you an example of something We consider to be a good audience-lead event…
 

The Great British Brain Off
Although this event did not have much to do with baking cakes, Dr Alan Gow from Heriot-Watt University likes to call himself a 'head chef', because he has a passion for finding a recipe for the perfect brain.
There are lots of ways in which this research topic can be approached, but in this event, the 'head chef' orders his audience to write down what they think is good and bad for the human brain. Little sticky notes are collected and this is when the show really begins. Dr Gow looks through each note, reads them out loud and asks people to raise their hands if they agree with the statement. Then he begins to teach. On one side of the table there are colourful rainbows which he likes to call the Brainbow. He takes a graphic that corresponds with the topic on the sticky note, for example alcohol. He then places the graphic on the Brainbow – the higher it goes, the bigger the influence it has on our brain.
In an interactive and fun way, our beliefs on what is healthy for our brain are being challenged and mapped on the Brainbow, helping the audience to better understand the needs of the human brain.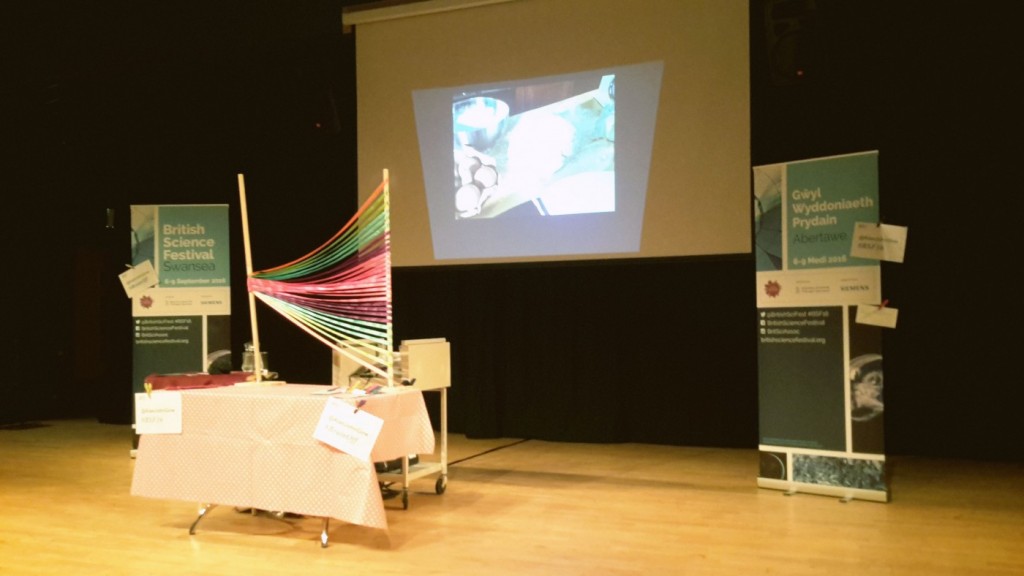 If you are interested in watching the actual event, you can find it Here
Come to one of our drop-in support sessions to talk to us about your event idea and book your place on 'Developing a public engagement event' training session via Organisation Development here.
This event took place as part of the British Science Festival in Swansea, 2016.