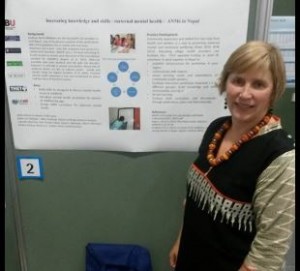 Our THET (Tropical Health & Education Trust) funded project which trains community health worker such as Auxiliary Nurse Midwives (ANMs) on mental health issues related to pregnancy was presented at the Royal College of Midwives (RCM) conference today by FHSS Visiting Faculty Jillian Ireland (photo).  Jillian is also a community midwife at Poole Hospital NHS Foundation Trust.
Mental health is poorly covered in the training of health care providers in Nepal.  This all the more worrying as it is also culturally a difficult sensitive topic to discuss.  This makes it difficult for front-line health workers, especially generalists or non-mental health specialists, to start a discussion about mental health issues with pregnant women, new mothers and their wider families.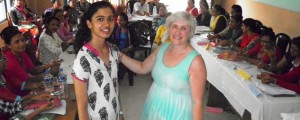 Our THET partnership includes the Department of Health, Physical & Population Education at Nepal's oldest and largest university Tribhuvan University's (TU), Bournemouth University and Liverpool John Moores University (LJMU).  This project is funded under the Health Partnership Scheme (HPS). HPS funds to carry out training and capacity-building projects in low-income countries, such as Nepal. HPS itself is funded by the UK Department for International Development (DfID) and managed by THET (Tropical Health and Education Trust).
The partnership working has resulted in several publications on mental health and maternity care in Nepal. [1-3] 
References:
Simkhada, B., Sharma, G., Pradhan, S., van Teijlingen, E., Ireland, J., Simkhada, P., Devkota, B. & the THET team. (2016) Needs assessment of mental health training for Auxiliary Nurse Midwives: a cross-sectional survey, Journal of Manmohan Memorial Institute of Health Sciences 2(1): 20-26.

http://www.nepjol.info/index.php/JMMIHS/article/view/15793/12738

van Teijlingen, E., Simkhada, P., Devkota, B., Fanning, P., Ireland, J., Simkhada, B., Sherchan, L., Silwal, R.C., Pradhan, S., Maharjan, S.K., Maharjan, R.K. (2015) Mental health issues in pregnant women in Nepal. Nepal Journal of Epidemiology 5(3): 499-501.

http://www.nepjol.info/index.php/NJE/article/view/13607/11007

Simkhada, P., van Teijlingen E., Winter, R.C., Fanning, C., Dhungel, A., Marahatta S.B. (2015) Why are so many Nepali women killing themselves? A review of key issues Journal of Manmohan Memorial Institute of Health Sciences 1(4): 43-49.

http://www.nepjol.info/index.php/JMMIHS/article/view/12001