On Friday the third cohort of UK volunteers will leave Heathrow as our education project 'Mental Health Training for Community-based Maternity Providers in Nepal' [1].  Mental health issues are a seriously underfunded and understudied area in Nepal, and not just in the field of maternity care. [2]   Our project is a collaboration between the Centre for Midwifery, Maternal & Perinatal Health (CMMPH), Tribhuvan University (Nepal's oldest university) and Liverpool John Moores University (LJMU). The project receives funding from DFID, and is managed through THET and supported locally in Nepal by a charity Green Tara Nepal.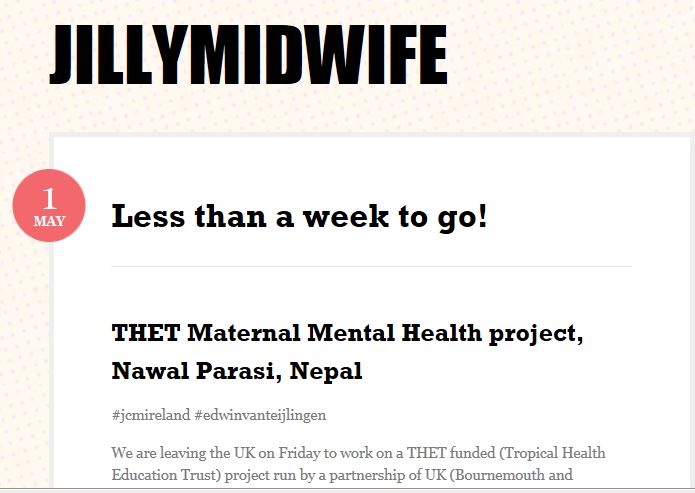 One of the three latest volunteers, BU Visiting Faculty and Poole Hospital NHS Foundation Trust midwife Jillian Ireland wrote about her forthcoming trainig visit (click here for Jillian's blog).  The other volunteers on this visit are midwife Andrea Lawrie from The Robert Gordon University/Aberdeen Maternity Hospital, Aberdeen) and Dave Havelock, a mental health nurse specialising in high intensity therapy (IAP) from North Yorkshire.
Previous Bournemouth University Research Blogs (see here! and here! ) and blogs by one the earlier UK volunteers retired health visitor Ish Fawcett (click here!) have outlined details of our project.  Bournemouth University has a great history of developing and delivering innovative education projects with the support of its Centre for Excellence in Learning (CEL).
Prof. Edwin van Teijlingen
CMMPH
References:
van Teijlingen, E., Simkhada, P., Devkota, B., Fanning, P., Ireland, J., Simkhada, B., Sherchan, L., Silwal, R.C., Pradhan, S., Maharjan, S.K., Maharjan, R.K. (2015) Mental health issues in pregnant women in Nepal. Nepal Journal of Epidemiology 5(3): 499-501.
Simkhada, P.,  Winter, R.C., Fanning, C., Dhungel, A., Marahatta S.B. (2015) Why are so many Nepali women killing themselves? A review of key issues Journal of Manmohan Memorial Institute of Health Sciences 4(1): 43-49.