The Digital Me pop-up photo exhibition took place on 5th November. The event was part of the ESRC Festival of Social Science and took place at Sovereign Shopping Centre.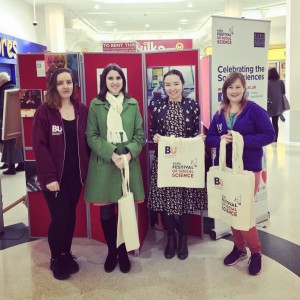 Dr Elvira Bolat and Dr Parisa Gilani were lead organisers of the event with the help of incredible Knowledge Exchange & Impact Team made the event an absolute hit: over 243 people engaged with the event and learnt about Bournemouth University's research into digital. In particular, visitors were interested in the following three topics: digital addition, slacktivist behaviour, and age difference in consumption of mobile social media.
Famous and incredible Howard Potter visited us. Do you know who Howard Potter is? Check this: https://www.youtube.com/watch?v=vYpeVBV
Check photos, full research behind each photo as well as photo commentary of the day on https://digitalmebu.wordpress.com/
Research featured on the microsite and via images was a collection of studies conducted by staff and students from the Faculty of Management, Faculty of Science and Technology and Faculty of Media and Communications.