Do you have a fantastic piece of research that you'd like to develop into a public engagement event? You still have one more week to apply for Festival of Learning 2017!
What you research often determines how you will engage with the public and who your work will impact; nevertheless people love to learn about what you do and appreciate short demonstrations.
Getting drunk with 302 brain cells – what we learn from a worm?
Prof Lindy Holden-Dye from Southampton University studies the brain of a simple nematode worm, which has just 302 brain cells, to learn how alcohol affects the human nervous system. In October she gave a talk to Café Scientifique's audience in which she talked about her research but also showed the equipment she used in a lab. Prof Lindsy Holden-Dye also talked about her relations with the worms and event brought few with her to show them to the audience.We have appreciated short demonstrations on how to handle nematode worms as well as the process of getting them drunk.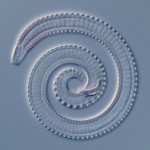 Make sure to come to one of our drop-in support sessions to talk to us about your event idea!
There are only two sessions left:
Monday 28 November 9am-11am, Executive Business Centre Cafe
and
Thursday 1 December 8:30am-5pmTalbot Campus
Remember that the deadline for event submissions is 4pm on Friday 2 December
Once you are ready to submit your event proposal you will need to complete the online application form.  Applications for both the global Festival of Learning and the UK Festival of Learning will be handled via one form.  The form can be saved and edited up until the point you submit. To help make the process as easy as possible we have also provided a planning document that includes a list of questions and requested response lengths.
Find out more, download the planning document and take a look at dates for our drop-in sessions.
If you have any questions about the global Festival of Learning, please contact the Global Engagement Hub: 01202 965112 globalbu@bournemouth.ac.uk
If you have any questions about the UK Festival of Learning, or difficulties using the online application form, please contact the Festival of Learning Team: 01202 961342  FoL@bournemouth.ac.uk