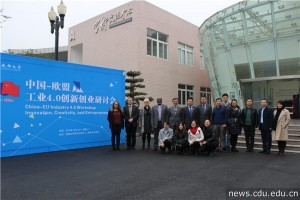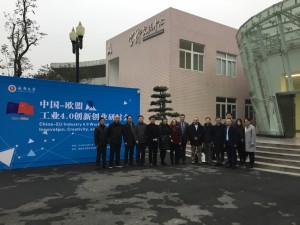 The 2nd China‐EU Industry 4.0 Forum on Innovation, Creativity, and Entrepreneurship was held at Chengdu University, China on 14 December 2016. The forum was organised by the EU Erasmus Mundus FUSION project consortium and was hosted and sponsored by Chengdu University. Over 30 research scholars from China, France, German, Hungry, Portugal and United Kingdom participated the forum. Prof Hongnian Yu, the FUSION project coordinator, chaired the forum and gave a talk on New Industry Revolution and Innovation.
Prof Qingyuan Wang, the president of Chengdu University, delivered the welcome speech, thanked the FUSION project consortium and pointed out that the forum would strengthen the research exchange in industry 4.0 innovation, creativity and entrepreneurship between the China and EU scholars. Prof Yun Li from Glasgow University, Dr.-Ing. Ingrid Rügge from Bremen University, Dr Zoltán Szabó from Corvinus University of Budapest, Prof Teresa Gonçalves from the University of Évora, Dr Néjib Moalla from Lyon 2 University, Prof Zengguang Hou from Chinese Academy of Science, Dr Shuang Cang from Bournemouth University, Prof Dongyun Wang from Zhongyuan University of Technology, and Prof Yahaya Yusuf from Central Lancashire University delivered the talks on their work related with the forum.
The forum is strengthening and enhancing academic and research collaboration between Chinese and European researchers to lead the global race in Industry 4.0 Innovation, Creativity, Entrepreneurship, helping complete the entire Industry 4.0 value chain for smart manufacturing and smart products through life.