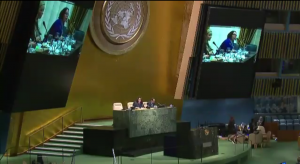 On 10 February, the Faculty of Media and Communication's Dr Shelley Thompson gave an intervention to a UN event on the impact of media on gender and science.
The conference was held simultaneously in New York City at the UN Headquarters and Malta at the Ministry of Social Dialogue, Consumer Affairs and Civil Liberties. Speaking from Malta, Shelley discussed some of the early findings of her research on the under representation in news of women scientists as experts on nanotechnology. She also linked her work to broader research on under representation of women's voices in news and politics.
The event was part of the UN's International Day of Women and Girls in Science, which aims to raise awareness of gender bias in the sciences. It was chaired by Malta's Minister of Social Dialogue, Consumer Affairs and Civil Liberties,  Dr Helena Dalli, MP, and featured speakers from around the world, including UN ambassadors, politicians, policymakers, NGOs, women scientists, and girls aspiring to be scientists.  ​
Shelley is a member of the Centre for Politics and Media Research, which engages in interdisciplinary research from a range of fields to consider pressing questions in 21st Century politics.