Are 'who gets to be a scientist' and 'who's expert voice is used in the media' two separable questions? The inclusion of women scientists as sources in news media is of particular interest to Dr. Shelley Thompson and Alexandra Alberda (BU) who organised a panel on this topic for Bournemouth Univerisity's Festival of Learning 2018. This panel is one part of a larger research project looking at women's expertise in STEMM (fiction and non-fiction sources and settings) and how that affects public perceptions of scientists.
The event facilitated a conversation between media scholars, scientists, public relations experts and journalists around the topic of 'women in science.' Panellists were: Dr.  Thompson (BU), Professor Tiantian Zhang (BU), Nathaniel Hobby (BU), Laura Hood (The Conversation), Cerys Bradley (UCL) and Dr. Amy Chambers (MMU), and was MC'ed by BU neuropsychology master's student Michael Varkovetski. The audience included scientists, academics and their families.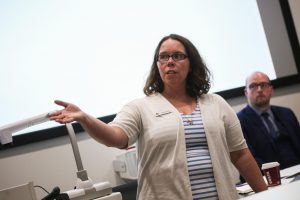 Dr. Thompson and Professor Zhang introduced the discussion by highlighting points of progression and stagnation regarding women in STEMM. The diverse range of STEMM subjects and women mentioned moved beyond the tokenised Marie Curie example. Dr. Chambers discussed the problems of tokenisation as appearing as progressive while, in fact, hindering continued change in women's representation as science experts and the construction of diverse fictional characters.
The panel agreed that progression within school-aged children was steady for representation and support in these fields, however, it was contested whether this was mirrored in support at postgraduate and industry levels. The idea that women need to act more like men to have fruitful careers is a constant pressure for those in the field. The stereotyped binary of women = emotions and men = objectivity continues as a hurdle for all scientists. These stereotypes are problematic for women and men in science restricting who they get to be and how they get to behave.
Nathaniel and Laura discussed self-promotion between women and men. On average women tend to struggle with celebrating and sharing their major successes, while men appear to be less likely to struggle with this and share more consistently. Scientists considering themselves experts in their own fields followed the same trends and confidence levels.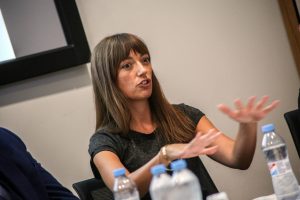 Dr. Chambers explained the importance of social media movements like #ImmodestWoman and media campaigns in bringing these problems into social and supportive spaces…though Cerys and Dr. Chambers challenged that some campaigns, such as the initial 'It's a girl thing', are problematic for the progression of non-stereotypical representation. Social media was viewed as providing a platform for the voices of women in science to directly create spaces of support and build imagined communities.
Women raising up other women was seen as a strength and good practice for stimulating change. Cerys spoke on the importance of being known as the science communicator who also offers referrals to journalists: pointing out that this keeps you at the top of journalist's contact lists. Laura mirrored this from a journalist's perspective as being important in keeping the interest of journalists even when you can't actively help them in their article.
The conversation ended with an energetic sense of activism with directions to move forward and examples of points where progress is perceived by field experts. The research team is appreciative of the expertise and context the panel provided. In the last month, the research team has used this discussion and momentum to analyse women's expertise in nanotechnology and public ideas of who gets to be a scientist.