Bournemouth University will be hosting a Public Involvement seminar series throughout March and April, which focusses upon the public/patients working with staff to: 1) prioritise research; 2) advise upon project methodology; 3) design recruitment campaigns; 4) develop research materials; and 5) promote the impact of findings.
Patient and Public Involvement (PPI) has broad application to research beyond Health and Social Care, allowing the public actively act as participants. Direct benefits to researchers include: ensuring research quality, credibility and relevance; public accountability and insights; and enhancing research funding.
Students, staff and the public are invited to the seminar series. UGR and PGR students attending three or more seminars will be eligible to apply for an opportunity to run their own PPI advisory group with hip-replacement patients. This will be supported by ORI and the Department of Sport and Physical Activity, and has ongoing potential for conference presentation and journal article preparation.
Patient & Public Involvement (PPI) Seminar Series
Location EB708, Executive Business Centre, Lansdowne Campus
Monday 6th March, 3-4.30 pm
Why PPI is crucial to designing effective health research studies
Professor Jo Adams, Professor Musculoskeletal Health, University of Southampton
Wednesday 15th March, 3-4.30 pm
Importance of public involvement in research design: an orthopaedic case study
Lisa Gale-Andrews & Dr Zoe Sheppard, Faculty of Health and Social Sciences, Bournemouth University
Monday 3rd April, 3-4.30 pm
Recruiting and supporting participants to  engage in meaningful PPI
Dr Mel Hughes & Angela Warren, Carer and Service User Partnership, Bournemouth University
Monday 24th April, 11-12.30 pm
How can today's patient help research tackle tomorrow's health challenges?
Simon Denegri National Director, Patients and the Public in Research (INVOLVE)
Book your place now: https://patientandpublicinvolvement.eventbrite.co.uk 
Refreshments are available and there will be plenty of time for discussion at the seminar end. Any questions please contact:

Dr James Gavin
Email jgavin@bournemouth.ac.uk
Phone +44 (0)1202566303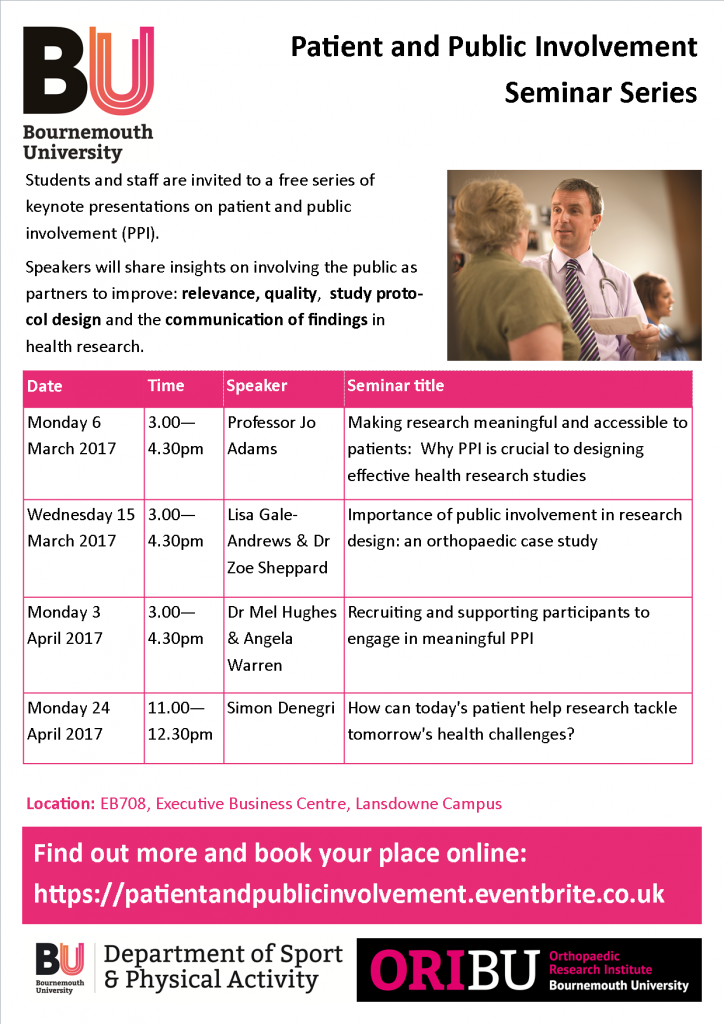 Phone +44 (0)1202566303