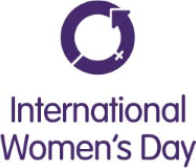 International Women's Day (March 8) is a global day celebrating the social, economic, cultural and political achievements of women. The day also marks a call to action for accelerating gender parity.
Look out for #bued1617 hashtag for  programme and talk updates at Bournemouth University.
To book onto any of the below events, please visit eventbrite
Experience of being a women in senior leadership
Speaker: Wendy Williams, Her Majesty's Inspector of Constabulary (HMIC)
Date: Monday 6 March
Time: 11:00-12:00
Venue: Talbot Campus
HMI Wendy Williams leads Her Majesty's Inspectorate of Constabulary which undertake regular inspections of police forces. Wendy will be delivering a talk for International Women's Day on her experience of being a female in a senior leadership role.
Developing Women Leaders
Speaker: Louise Barton, Head of SRP Operations, Barclays; Tara Flynn, Managing Director, Ratio, Sarah Derbyshire, Chief Inspector CID, Dorset Police and Diana Parkes, Business Owner, Women's Sat Nav to Success
Date: Wednesday 8 March
Time: 15:00-16:00
Venue: Talbot Campus
This panel discussion featuring industry guest speakers will consider some of the gender challenges within the workplace and provide tips for students hoping to undertake future leadership roles.
La Cecchina (A recital of songs by a variety of the female composers including Caccini, Chaminade and Schumann) (Admission free)
Performer: Sarah Palfreman-Kay
Date: Thursday 9 March
Time: 5:45 (Duration approximately 45 mins)
Venue:  Student Centre, Talbot House, Talbot Campus
You do not have to book for this performance
To book onto the above events, please visit eventbrite