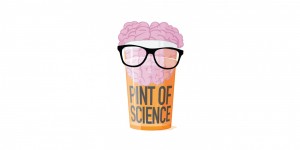 Share your research over a pint!
Pint of Science is hosting a series of events taking place across UK from the 15th-17th May in local pubs around Bournemouth. The Pint of Science festival aims to deliver interesting and relevant talks on the latest science research in an accessible format to the public – all in the comfort of pub!
We're currently looking for speakers with Technology based research who would be interested in joining 'Tech me out' nights to deliver a talk on one of the 3 evenings – 15th ,16th , or 17th – The talks will be taking place in Chaplin's in Boscombe.
We are also looking for health related speakers  to take part in 'Our body' nights, also taking place over the 15th, 16th and 17th but this time in the Goat and Tricycle pub in the Triangle, Bournemouth
This is a great public engagement opportunity with an interesting crowd, enabling the opportunity for open discussion and questions with the wider public.
For more information or to get involved please contact Shanti Shanker sshanker@bournemouth.ac.uk  or Joanna Pawlik (jpawlik@bournemouth.ac.uk
To find out more please visit Pint of Science website 
Partners include British Heart Foundation, Elsevier and British Pharmacological Society. List of all partners