Participation by Alice Brown, Research & Knowledge Exchange Office
This was my very first time on an exciting International Staff Training Week, hosted by Kristianstad University in Sweden. The 4 day training programme from 8 to 11 May 2017 was divided into Groups reflecting the professional service areas of: (A) Student Services, (B) Library, (C) Information Technology, (D) Finance and (E) Research & Innovation. The Week was attended by 40 participants from Universities all over Europe (Germany, Spain, Portugal, France, Romania, Poland, Hungary, Czech Republic, Turkey), of which three, besides for myself, were from the UK (Durham, Staffordshire).
On the first day, the Host via their International Office's staff introduced themselves to the cohort, including the history of Kristianstad as formerly a military town with the University grounds and buildings being infantry premises. The Host was a young University, initially offering nursing and teaching courses, but has now expanded to offer many more, such as agriculture, food sciences and engineering.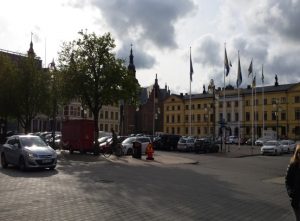 It has this year become the most popular University for school-leavers in Sweden. After this introduction, the Host's Vice-Chancellor welcomed us. We were given brief introductions of all participants, elements of Swedish culture such as a fikka (coffee/tea break with snacks, usually delectable Scandinavian pastries), a campus tour and then a tour of the town.
On the second and third days, we split into our Groups. I was in Group E – the Research & Innovation Group, which had 9 participants, of which 3 officers were from the Host and the others were from Universities in Germany, Romania, Portugal, Turkey and the UK (Durham). We all gave presentations about our Universities and engaged in intensive workshops about the issues, challenges and possible solutions to engage students and academics in research/innovation.
We were taken on excursions to visit the Kristianstad Krinova Incubator Science Park and two knowledge exchange business projects – an innovative Swedish fusion food restaurant, Sotnosen's and a sustainable aquaculture farm, Gardsfisk. We attended a one hour crash course in Swedish and emerged feeling we could say the common niceties like "hej" (hello) and "tak" (thank you).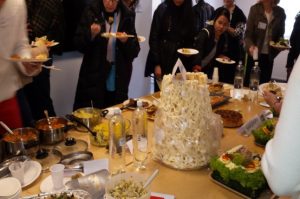 The Host invited the cohort to a welcome lunch at Metropol, their campus food hall on the first day and a finger-food lunch prepared by their international students on the second day. At this lunch, I discovered my new-found Swedish favourite – the smogastarte and a traditional sweet – the Spettekaka. We were all taken out by the Host to a smorgasboard dinner at Aptit, a restaurant in town that second evening when we had sparkling conversations about Swedish arts and culture.
On the fourth day, we gathered back as a cohort and had a wrap-up session on what each Group had learned and what we would take back to our respective Universities. We exchanged contacts and raised ideas of possible future collaborations. I had a great experience meeting new people working in similar professional service areas and engaging in Swedish culture and history.
I will be taking back a few practice ideas that will continue to feed into Bournemouth University's internationalisation and innovative partnerships journey.