Final year sport management student Mats Hjertum and his teammate Stian Pettersen from our partner university, the Norwegian School of Sport Science, have been shortlisted in a business competition involving Germany's most successful football club FC Bayern Munich and global consumer goods giant Procter & Gamble. Teams from as far as New Zealand submitted their innovative ideas around fan experience and mediaisation in football. Mats and Stian are mentored by management academic Dr Tim Breitbarth.
Watch their great team presentation video that prominently features BU by clicking on the below picture.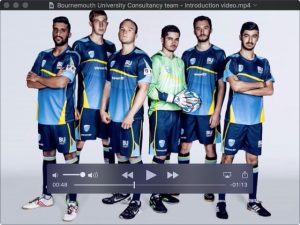 They are now invited to spend four days with FC Bayern Munich around the Audi Cup at the beginning of August (pre-season competition involving Bayern Munich, Liverpool, Atletico Madrid and Napoli) to meet stakeholders of the business competition, including Bayern executive board members, the general manager of P&G Germany, and the managing partners of Futury, the idea generator and test factory for new and digital business models which brokers the business competition. Importantly, Mats and Stian will pitch their idea for substantial funding and mentorship in the final phase. Amongst other, part of their experience will be an exclusive tour of Allianz Arena and tickets for all matches of the competition.
Unfortunately, the second team led by BU sport management student Sahil Kamble did not make the cut despite a strong business, sports and engineering skills portfolio within their team of three and also an exciting technology-driven proposal.
With the initial lead for the competition coming through Dr Carly Stewart, this is the first time Bournemouth University sport students have been involved in such an international business competition. Besides Tim's mentorship, Mats and Sahil commented that their approach to this competition and their business thinking benefitted from the experience of the intense multi-day and fast-paced international student management game in Cologne, organised as part of their final year strategic sport management unit.
For more information, contact Dr Tim Breitbarth (Principal Academic and Global Engagement Lead, Department of Sport & Physical Activity) at tbreitbarth@bournemouth.ac.uk