Bournemouth Air Festival this year is a brilliant opportunity for you to come along and get involved at our Science tent! You will find us on the promenade towards Boscombe pier. We have many different free activities happening, from 3D printing to the VR of past landscapes where students have been collaborating with the New Forest National Park Authority to create virtual reality visuals of past landscapes.
These activities will give you an insight into the research Bournemouth University are doing in technology, whilst giving you the opportunity to get involved and have a go with the tech they are using!
We will also have other activities for people to get involved with, ranging from learning everything about the brain and all of its amazing secrets, to making your own model lung and slimy snot. You will be able to learn all about the amazing aspects of the body whilst having fun doing it.
If the 3D printing is something you really want to have a go at, make sure to come down and join us on the Thursday! Oleg Fyrazinov will be joining us at the air festival for one day only so make sure you don't miss out. We will also have the pleasure of working with the University of Southampton over the weekend at our stand so come and see what they will have in store… certainly not something to miss if you're a learning fanatic.
We look forward to seeing you get involved with our jam packed schedule! Check out our Twitter and Facebook for more regular updates on what we are doing!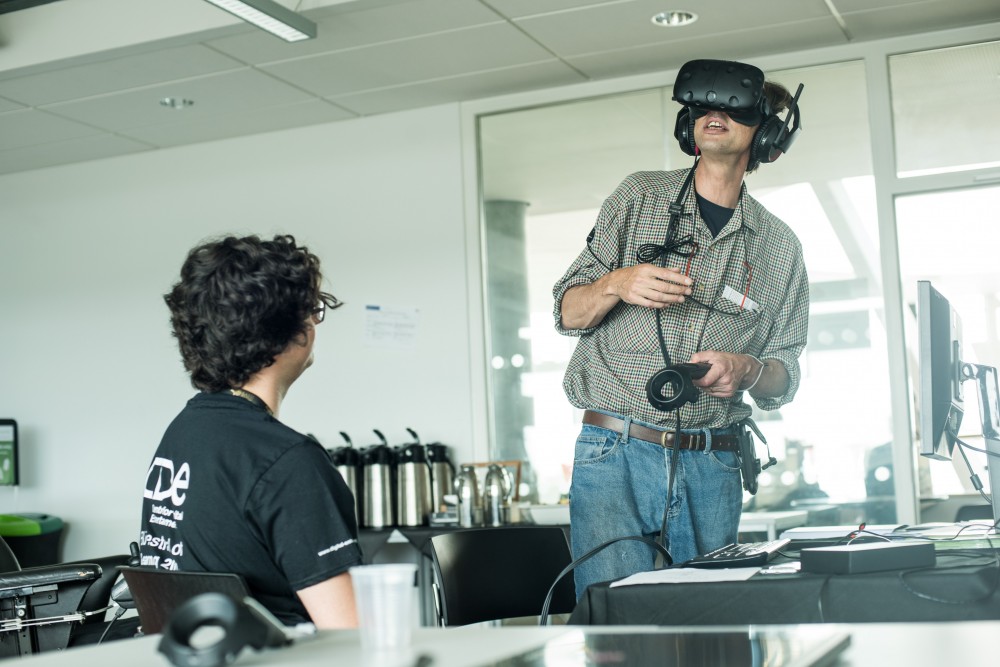 Read on below to see the full range of activities on offer throughout the weekend…
VR of Past Landscapes – Students on the Games Technology course at BU have been collaborating with the New Forest National Park Authority to create virtual reality visualisations of past landscapes. The New Forest want to engage the public and raise awareness of the heritage of the forest, and BU staff and students are able to perform research into issues related the virtual reality (immersion, navigation aids, comparison of presentation platforms, etc.). The students have created a number of different virtual reality environments of archaeological sites (including first and second world war airfields that may be of particular interest to the air festival visitors) that could be used as interactive exhibits. Users will be able to explore the environments by controlling their own path and interacting with objects in the environment.
Financial Scamming – Sally Lee will be helping the audience understand the risk of financial scamming and how to protect themselves through a 'Scams and Ladders' game to get people thinking whilst having fun. It is a way for the researchers to get the public aware of the risks of scamming (affecting more than 3.25 million people in the UK) whilst in a format that is readily accessible and will get people engaged at the Air Festival
3D Printing/SHIVA – BU's SHIVA software was developed to assist disable children to use their artistic talents and create their own 3D models. New software allows children and young people to use touch screen and eye-tracking technology to create their own shapes, which are then brought to life by 3D printers. Stop by and see the 3D printer in action, giving you an idea of how the changes in technology are helping make all activities accessibly for all ages and abilities.
Brilliant Brain – Brains: your personality, your memories, your feelings and the words you speak – they're all wrapped up in the squishy grey matter between your eyes. Come down and explore to model brain, ask your most baffling questions to a scientist and learn the brain's amazing secrets.
Microbiology and Wildlife Conservation – Have you ever met a microbe? They are all around us as well as inside of us, but invisible to the naked eye! Stop by and try out our high definition microscopes and see if you can spot the creatures. You will be able to find out why microbiology is such an important part of our daily lives and vital for the functioning of our natural world. We have several different types of microbiology for you to explore; so far we have the following sections: 1 – Microbial life forms; 2 – Invertebrates 3 – Shells, fossils and skulls; 4 – African wildlife endangered species/ conservation; 5 – Conservation craft corner
Maths Games – BU researchers have developed two new and exciting computer games that get your brains ticking over to solve maths problems as part of the fun. Try your hand at the quick and easy Maths Run game and enter your high score on our leader board to be in with a chance of winning a prize at the end of the day!
Maritime Archaeology – There will be a small display on the aviation used during the First World War, as well as showing you the local marine archaeology around Bournemouth and how shipwrecks are attacked by the biology in the sea.
Heathland Management – Britain is home to around 20% of the world's lowland heath, which humans created by clearing woodlands in the past. Our local heaths are popular for recreation and are home to many archaeological features. This activity will consider how these landscapes have changed over time, as well as what the best way to manage and preserve them is for future generations                                                       
Falls Prevention – Balance is the body's ability to stay upright and in control of the movement. It is necessary for all daily activities, but over time, adults lose this ability. The interactive drop-in session will show the importance of falls prevention, testing your balance with simple by fun tests. Come and learn more about your balance and what you can do to avoid a fall.
Madagascan Mysteries – The rainforests of Madagascar are filled with Special species. Come to the tent to find out what we have learnt on a joint expedition between staff and students from BU and the Bournemouth Natural Science Society. See displays showcasing the images of some of the wonderful wildlife found and get involved with our exciting, hands-on, all ages interactive learning activities for the full experience!
Slimy Snot and Breathing lungs – This activity will be fun for all the ages! Come along and make your own model lung and unlock the mysteries of how they work and learn the secret life of your snot and how it helps keep your lungs healthy.
University of Southampton – The University of Southampton will be joining us to get the public engaged with what the researchers at their University have been working on and the benefits it will bring to society! These activities consist of: The Circular Bio economy who are looking at how to use living processes to turn our rubbish into energy and useful products; the Centre for Population Change who are discussing 'migration through the nation' via giant puzzles and connect4; Sustainable Infrastructure Systems who are showing how they are creating sustainable, clean resolutions to tackle and solve environmental issues. We're also joined by Cancer Research UK who are doing  make a cell out of air dough and a targeted therapy game and the Barclays Digital Eagles who are bringing along their Raspberry Pi Game.