Dr. Miguel Moital, Principal Academic in Events Management (FM), has just published a paper co-authored with MSc Events Management graduate Cisil Andirin and Dr. Carla Cardoso, Associate Professor at the Portuguese Catholic University (Braga Campus).
After this publication, Dr. Moital has published a total of 8 outputs with BU Undergraduate and Masters students (7 journal articles and 1 book chapter). Journal articles include publications in the International Journal of Contemporary Hospitality Management, International Journal of Event and Festival Management, Young Consumers and Journal of Fashion Marketing & Management (All Emerald journals), as well as Event Management (a Cognizant journal).
The paper, entitled "Service failures as organizational crises in business travel: origins and operational strategies as perceived by events professionals" was published in the Brazilian Journal of Tourism Research (RBTUR). RBTUR is the leading Brazilian tourism journal edited by the Brazilian Research and Post-Graduation in Tourism Association – ANPTUR. The journal is open access and the paper can be downloaded here.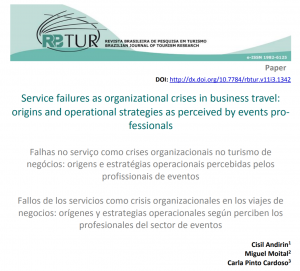 The paper is based on Cisil's Masters dissertation and focuses on exploring crisis management perceptions and practices by meetings professionals from two perspectives: origins of crisis and crisis management strategies. Focusing on Turkish meeting planners, the paper found that according to them crises are more about service failures than major disruptive events that question the organisation's existence as per the traditional definition of crisis. As a consequence, the paper suggests that distinction between the notions of service failure and crisis may be artificial rather than real. Therefore, researchers planning studies on crises-service failure should consider looking at both literatures in order to integrate both bodies of knowledge.