Tuesday saw the annual NHS Research Ethics Committee (REC) members training day in London. The learning outcomes of the day were:
To provide overview of the pilot work being undertaken in preparation for EU Clinical Trials Regulation
To introduce the REWARD Alliance and,
To consider how ethics committess can encourage researchers to engage more fully with the scientific literature both before and after studies are conducted
The morning focussed on updates on ethics regulatory procedures, the EU (see link below for slides) and changes in the Data Protection Act (but not the law of confidentiality) that have implications beyond healthcare research. There is also movement for a Public Involvement in Ethical Review (PIER) service, as well as adopting 'e-consent' for participation in health research.
EU Regulation_UK Research Ethics Service
The afternoon focussed on the REWARD Alliance and how ethics committees (and researchers) can help reduce waste in research. This group was established to promote a series of articles on research published in early 2014 in The Lancet.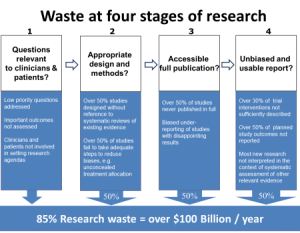 Figure: Stages of waste in producing and reporting of research evidence (Chalmers & Glasziou, The Lancet 2009).

As a researcher and ethical reviewer, the day was insightful, interesting and relevant. Knowledge of the REWARD Alliance, particularly how researchers should diligently plan and prepare projects with clear pathways to dissemination. Although publishing demands differ between academia and industry (including pharmaceutical companies), all research should be designed fom the outset with clear outputs to communicate the findings.
If you would like further information from the day, send me an email.
James