Doctoral College – 10th Annual Postgraduate Conference
Are you a PGR or do you know a PGR looking for an opportunity to share their research with peers and academic colleagues? If so, then the 10th Annual Postgraduate Conference hosted by the Doctoral College is the opportunity for you.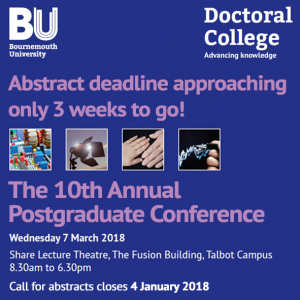 ---
With only 3 weeks do go The 10th Annual Postgraduate Conference abstract deadline is soon approaching. BU PGRs are invited to submit oral, poster or photography abstract to pgconference@bournemouth.ac.uk by Thursday 4 January 2018 in order to be considered.  
Please ensure you follow the how to apply guidance (pdf 253kb) and you can download the Application Form (docx 545kb) here.
---
Oral Presentation: 1st Prize £150;   2nd Prize £100;   3rd Prize £75
Poster Presentation: 1st Prize £100;   2nd Prize £75;   3rd Prize £50
Photo Presentation: Winner £50
*All prizes will be in the form of Amazon Vouchers
---
Successful oral presentations will be supported by a one day masterclass in presentation skills and successful poster presentations will be supported by a masterclass in creating an academic poster.
---
Registration to attend the conference will open on Monday 8 January 2018.