The "vF Interoperation suppoRting buSiness innovaTion" (FIRST) project provides new technology to describe manufacturing assets and to compose and integrate existing services into collaborative virtual manufacturing processes.
The project kick-off meeting took place in March 16-17 2017 at Bournemouth University UK. In attendance were the academic and industrial representatives from the partner institutions.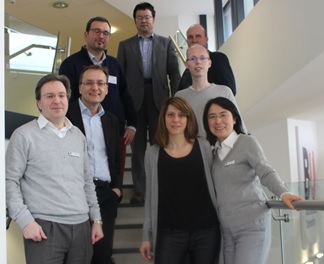 The FIRST Project kick-off meeting participants at BU[/caption]
The project combines partners from China, Germany, The Netherlands and Germany in the academic and industrial sectors. Together we work on processes in manufacturing context.
The kick-off meeting initiated the projected start from March 2017. Topics discussed at the the kick-off meeting included
Deeper knowledge of consortium partner, research agenda​
Implementation of working packages and Deliverables
Presentations of partners
Discussing Consortium Agreement
Please find more details about the project at
research.bournemouth.ac.uk/2016/09/horizon-2020-funding-for-virtual-factory-research-at-bu/