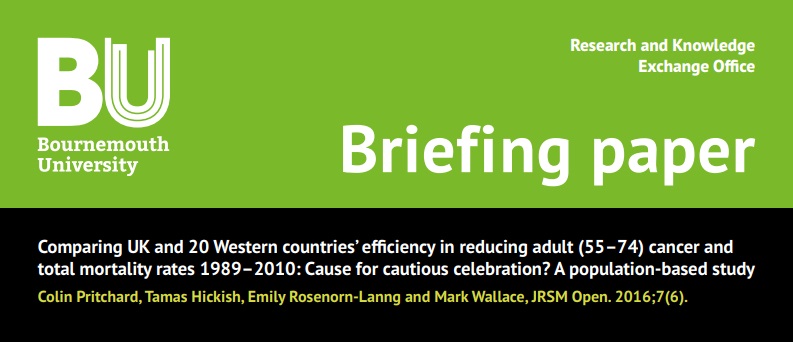 Our BU briefing papers are designed to make our research outputs accessible and easily digestible so that our research findings can quickly be applied – whether to society, culture, public policy, services, the environment or to improve quality of life. They have been created to highlight research findings and their potential impact within their field. 
---
The response to medical advances, greater expectations, extended longevity and the rising cost of health care, especially for cancer, means health inflation raises almost 3% p.a. and has meant that every Western nation has the need to devote considerably more of its 'national income' (gross domestic product) to healthcare.
So, how efficient is the UK in reducing adult (55–74) cancer mortality rates and total mortality rates compared to the other 21 similar socio-economic Western countries?
In this paper, efficiency ratios were calculated by dividing reduced mortality over the period by the average percentage of national income spent on healthcare.
Click here to read the briefing paper.
---
To find out how your research output could be turned into a BU Briefing, contact research@bournemouth.ac.uk.