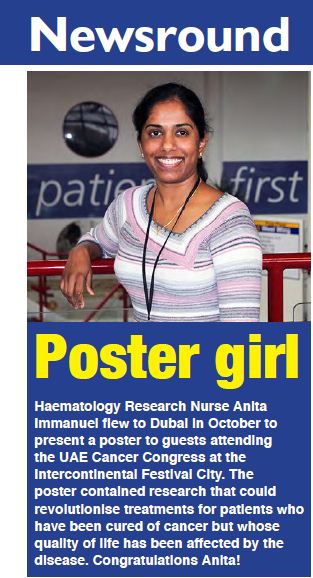 FHSS PhD student Anita Immanuel just had the first paper from her PhD "Quality of life in survivors of adult haematological malignancy" accepted by the international journal European Journal of Cancer Care.   This international journal is published by Wiley and has an Impact Factor 2.409.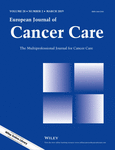 Survivors of haematological malignancies endure long-term effects of both the treatment and the disease. This paper examines factors that influence their quality of lives through reporting on the results of a survey. The survey used previously validated quality of life questionnaires for use in cancer management. Participants were adults over the age of 18 years who had completed treatment for a haematological malignancy and were between 1-5 years post treatment.
Anita is currently working as Lead Clinical Research Nurse at East Suffolk and North Essex NHS Foundation Trust.  Her PhD research (see picture above) was conducted at  the Haematology Department of Royal Bournemouth and Christchurch Hospitals NHS Foundation Trust, which has one of the most extensive research portfolios in the Trust.   Her PhD is supervised by Dr. Jane Hunt (Dept of Nursing & Clinical Science), Dr. Helen McCarthy, Consultant Haematologist at the Royal Bournemouth and Christchurch Hospitals NHS Foundation Trust, and Prof. Edwin van Teijlingen in the Centre for Midwifery, Maternal & Perinatal Health (CMMPH).