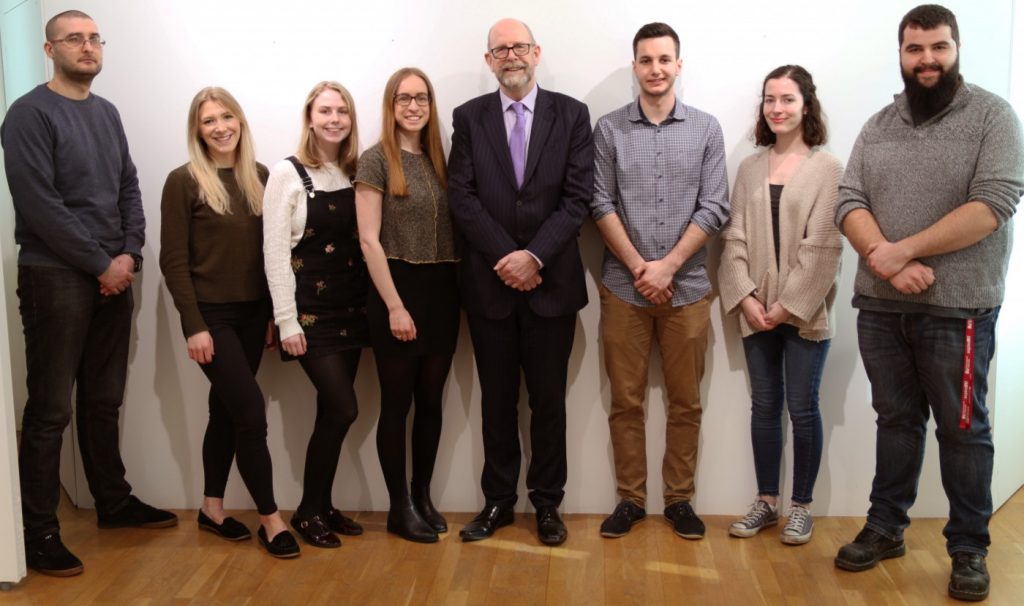 Around 80 students took part in BU's third annual undergraduate research conference: Showcasing Undergraduate Research Excellence (SURE).  The conference is an excellent opportunity for undergraduates and recent graduates to share their work and develop their presentation skills.  This year's contributions reflected the breadth and depth of outstanding undergraduate research taking place across BU.
The conference allows students to present their work to peers, academics staff and attendees from external organisations.  As well as demonstrating their academic successes, it enables students to see the real world application of their work and develop potential cross-disciplinary collaborations.
Dr Mary Beth Gouthro, co-chair of the conference, said: "The quality of the undergraduate research underway across all our faculties is testament to the potential of our students, and the professionalism and expertise of the staff that support them.  SURE is a great opportunity to celebrate the work of our undergraduates, showcasing their academic progress and provides encouragement into the next steps in their careers."
As part of SURE, two BU academics shared their own research with the student presenters and conference attendees.  Professor of Behavioural Ecology Amanda Korstjens delivered a session on 'Interdisciplinary approaches to conservation' encouraging students to look outside their disciplines to build better practice when conserving wildlife and natural habitats.  Associate Professor Richard Berger presented progress made into his research on 'MediaLitRefYouth', a 2 year EU funded project which seeks to understand the lives of unaccompanied refugee children across Europe.  Both of these keynotes provided students the ability to reflect the power and reach of academic research combines with real world applications to help improve lives, for the better.
There were a number of prize winners as part of the conference, including £30 amazon vouchers for best posters, 4 funded spots to participate at BCUR 2018 for one student from each faculty.  The overall winner, Andrew Watt, has been offered a Masters fee waiver.
Winner of the prize for best overall contribution, Andrew Watt, commented, "It feels pretty exciting, I didn't expect it. My presentation was about how fallers and non-fallers in the elderly differ from a bio-mechanical perspective, which is pretty niche. I found the feedback I received from my presentation were positive and it was good practice to have some difficult questions, especially for this next conference."
"I've had several lecturers who weren't at the conference contacting me to say congratulations.  I think my lecturers are just really proud of the physiotherapy students who presented. It's great that they are so supportive."
More details about the conference can be found on the SURE 2018 website.
SUBU prizes:
| | |
| --- | --- |
|  FM winner | Claudia Wilkin |
| FST winner | David Hurst |
Best poster, demonstration or art installation:
| | |
| --- | --- |
| HSS winner | Thilo Reich |
| FST winner | Stelian Tsekov |
| FM winner | Dan Pryke |
| FMC winner | Kate Edge |
Best original research via oral presentation:
| | |
| --- | --- |
| HSS winner | Andrew Watt |
| FST winner | Isobel Hunt |
| FM winner | Atanas Nikolaev |
| FMC winner | Bethan Stevenson |
Best overall contribution:
| | |
| --- | --- |
| Masters Fee Waiver | Andrew Watt |