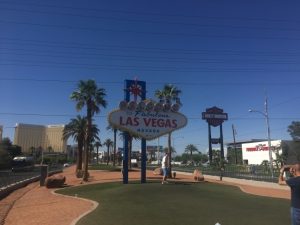 I was recently fortunate enough to be given the unique opportunity to attend the 13th Congress for the International Society for Study of Fatty Acids (ISSFAL) and Lipids in Las Vegas Nevada. My experience started with an interesting satellite symposium entitled "An Update on the Role of EPA and DHA for Brain Health". During this satellite experts such as Dr. Karin Yurko-Mauro gave an excellent insight into the current research on a topic which strongly relates to my PhD.
On the first day of the conference I was given the opportunity to present some of the work I have done during my PhD with an oral presentation entitled "Preliminary analysis suggests a high DHA multi-nutrient supplementation and aerobic exercise produce similar improvements in verbal memory in older females". This was an amazing and rather surreal experience, as presenting research I had conducted at an international conference is not something I would have envisioned being able to achieve just a short time ago. As well as my oral presentation I also had a poster entitled "Circulating DHA levels as a predictor of gait performance under single and dual-task conditions in older females".
During the conference there were a series of plenary lectures, as well as sessions covering a breadth of topics including general nutrition, aging and neurodegenerative diseases, brain fatty acid uptake, inflammation and allergy and clinical trial methodology. In between sessions leading pioneers within fatty acid research Professor Michael Crawford and Dr Maria Makrides were each given awards with Professor Crawford being given the omega-3 research award and Dr. Makrides the Alexander Leaf Award.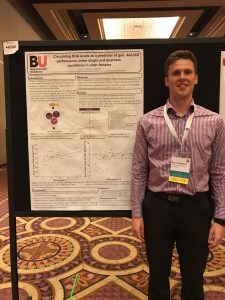 The ISSFAL committee were very accommodating of the younger researchers attending the event. organising a young investigators social to the mob museum and putting together a "meet the professors" breakfast to allow us to pick the minds of some of the leaders in the field. Furthermore I won a young investigators award by ISSFAL, which is given to recognise and encourage excellent abstract submissions, and in turn allowed me to register for the conference at no cost.
I would firstly like to the thank the ISSFAL organisers for allowing me the opportunity to present my work at such a respected conference and my PhD supervisors Dr. Simon Dyall and Dr. Fotini Tsofliou for supporting me through the research process. I am also grateful for being awarded a full Santander mobility award and for my BU studentship funding, which has allowed me to make the trip to Las Vegas possible.
If you would like to learn more about our research, please feel free to contact me at pfairbairn@bournemouthac.uk
Paul