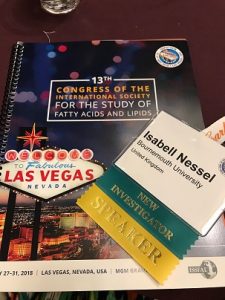 The International Society for the Study of Fatty Acids and Lipids (ISSFAL) www.ISSFAL.org held its 13th International Congress in Las Vegas, Nevada, USA at the end of May. After a very informative Satellite Symposium (Arachidonic and docosahexaenoic acids in infant development), the Congress started with a welcome reception in the Tropicana Hotel. This was not only well attended by the approximately 500 delegates from all over the world, but also Elvis Presley and Frank Sinatra made an appearance.
The following 3 days were packed with excellent and informative sessions about General Nutrition, Maternal and Infant Nutrition, Inflammation and Allergy, Clinical Trials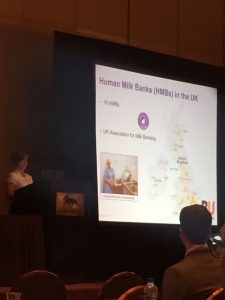 Methodology and Ketoneurotherapeutics. In between, well-known researchers in the field presented their research in plenary talks. Dr Michael Crawford obtained an omega-3 research award and Dr Maria Makrides was awarded with the Alexander Leaf Award. Her presentation entitled "Standing on the shoulders of giants: great women role models, mentors and advocates" was really inspiring.
I would like to thank ISSFAL for the opportunity to present my PhD research. My presentation was entitled "Optimising LCPUFA content of donor human milk: A review of current milk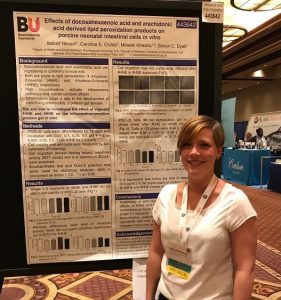 banking practices and recommendations for improvement", presenting the results of our UK Milk Bank survey, which is now extended internationally.  Furthermore, I had two posters displaying our work on preterm formula milk storage conditions and lipid degradation; and the effects of lipid degradation products on intestinal cells in vitro. These presentations gave me the possibility to position myself in the fatty acid research world and to make valuable contacts.
ISSFAL was especially taking care of us New Investigators, providing New Investigator Awards, organising a New Investigator social at the Mob Museum for networking with other researchers at a similar stage, as well as organising a meet the professor breakfast to talk to the experts in the field.  One of the none scientific highlights was of course our trip to the Grand Canyon on the free day.
I would also like to thank my supervisors Dr Simon Dyall and Prof Minesh Khashu for their ongoing support as well as Gillian Weaver and Dr Caroline Childs for the fantastic collaborations. Furthermore, I would like to thank Bournemouth University and Santander for making this trip possible.
If you would like to learn more about our research, please feel free to contact me at inessel@bournemouth.ac.uk
Isabell