Professor Jonathan Parker was invited to present the keynote address to the Japanese Association of Social Workers conference in Okayama in July. The conference brought together Ministry of Welfare officials, key social work professional organisations and academics from every university in Japan to discuss growing professionalisation in social work in Japan and the Asia Pacific region.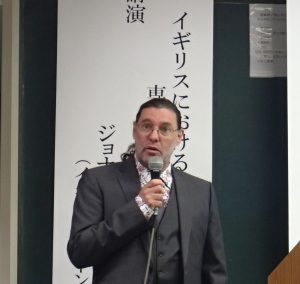 Professor Parker was invited because of his long-standing association with social work in Japan resulting from translations of his best-selling books Social Work Practiceand Effective Practice Learning in Social Work, which have been consistently used in Japanese social work education over the last decade. He has also undertaken research and published with Professor Tadakazu Kumagai of Kawasaki University of Medical Welfare who was also a BU visiting professor.
Professor Parker's keynote address warned of the 'two-edged sword' of professionalism and the dangers of recognition by the state, which restrict social workers' role in resisting government prescriptions for the social control of individuals, families and groups without promoting a concomitant emphasis on human rights and social justice. Using psychoanalytic concepts, he argued that social work is an ambivalent entity in the minds of the general public and government and liable to be hated and blamed when tragedies occur whilst loved and required in times of need. Accepting this ambivalence, social workers need to take forward their resistance agenda by walking alongside those who are ostracised and marginalised.
The keynote was well received and has led to potential developments in UK-Japan funded research.