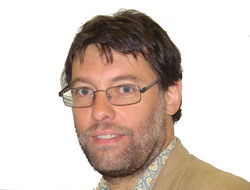 Professor Jonathan Parker, Deputy Dean (Research & Knowledge Exchange) delivered the Keynote address at the "International Social Work Conference 2012: Crafting Symbiotic Collaboration and Partnership in the Asia-Pacific Region", held in Penang, Malaysia last week.
This international conference, jointly organised by the Institut Sosial Malaysia, the government Ministry of Women, Family and Community Development and the Universiti Sains Malaysia (USM), Penang, Malaysia, with the support of government Department of Social Welfare, Malaysia and the Malaysian Association of Social Workers. Professor Parker's invitation to deliver the keynote was made in recognition of the important work that he and Dr Ashencaen Crabtree conducted in developing partnerships and collaboration in cross-cultural learning for social work students.
Professor Parker spoke about the three-year British Council funded research project promoting UK student mobility to Malaysia. It involved developing partnerships at organisational levels between UK (BU) and Malaysian universities (Uuniversiti Sains Malaysia and Universiti Malaysia Sarawak), but was only possible because of prior personal and collegiate relationships – the substrate, or foundations, of symbiotic partnership and collaboration.
The positive results of the collaboration and enhanced cross-cultural understanding were presented, including enhanced employment prospects for UK students – something found as part of a follow-up Fusion Investment Fund study last year. However, Professor Parker's keynote also problematised the mode of learning and the collaboration and partnerships evolved to facilitate the work, drawing attention to:
Isomorphic tendencies in social work education globally (a move towards a common state)
Hegemonies of nation-states (in which one assumes a position of power)
Hegemonies of social work: practice & values
Tyrannies of received ideas
He posed the question for the conference, what future is there for international collaboration and partnerships in social work education? The importance of criticality and reflexivity in analysing collaboration types, power balances and differentials was stressed, recognising that not all relationships are top-down, bottom-up or even equal but are likely to be fuzzy and plural in meanings and directions. Accepting this allows for change and diversity as partnership relationships develop, and demands that we become more comfortable with the places and spaces we occupy as actors in mutual collaborations.
Professor Parker's keynote was warmly welcomed and further research collaboration is planned with a wider network of Malaysian universities and potential support from the Ministry of Women, Family and Community Development and Department of Social Welfare.