Café Scientifique Bournemouth – We run on the first Tuesday of the month. 
Cafe Scientifique is a place where, for the price of a cup of coffee or a glass of wine, you can explore the latest ideas in science and technology. Enjoy listening to a short talk before engaging in debate and discussion around that topic.
Join us on Tuesday 6 November from 7.30pm until 9.00pm (doors will open from 6.30pm):
We'll be joined by Xun He to discuss – Working together: When your mind is in my mind.
Human beings are evolutionary shaped social animals. We often play and work together either independently or aiming at common goals. Have you ever wondered, when we are engaged in group activities, whether we perform everyday tasks in the same way as we do them alone? Recent findings in psychology showed that one person's cognition and behaviour (such as attention, memory, perception, and action) can be shaped by another person who performs similar tasks in the same environment. But the answer to the question is more complicated than a simple 'yes' or 'no'. This talk will introduce these findings and explain the theories behind the phenomena. You will see psychological experiments in action and be engaged with some tests and discussions.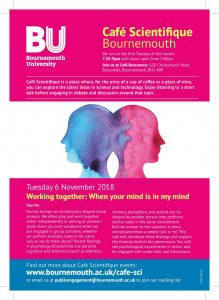 Café Boscanova – 650 Christchurch Road, Boscombe, Bournemouth, BH1 4BP
If you have any questions please do get in touch. You can also follow us on Facebook and Twitter.
Plus, why not send us a request to be added to our Public Engagement mailing list and be the first to hear about all our events and activities.
We look forward to seeing you!
Café Scientifique Team