Welcome back to the wonderful world of Knowledge Exchange and Impact! We may not have blogged for a while, but we have been working hard to ensure that BU's research and knowledge is informed by society for the benefit of society. Here are a selection of our achievements for the last month:
Public Engagement
We ran 10 successful events for the ESRC Festival of Social Science (3-10 November), reaching around 350 people across Bournemouth and London. Research projects across all four Faculties were highlighted and topics encompassed sex, sexuality and gender, creative responses to ageing and loneliness, face super-recognisers, responsible online gambling, visual storytelling for impact and the inevitable Brexit. Plus, there were dogs from Caring Canines, who pretty much stole the show.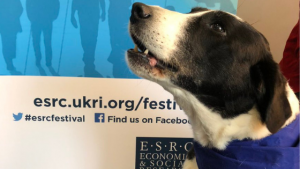 November's Cafe Scientifique was attended by 44 people, who came to hear Dr Xun He's talk on how behaviour is shaped by other people's actions. Next month (4 December) Dr Rebecca Rendell will be discussing the physiology of living life to the extreme. Cafe Boscanova, 650 Christchurch Road, Boscombe, 7.30-9pm. (Upcoming events at Cafe Scientifique.)
Social Media 
The impact officers collectively joined Twitter (check out the account here) and successfully used the platform to promote various public engagement events as well as keep academics informed about all things REF and impact.
Student Engagement
Dr Deborah Gabriel discussed political issues surrounding race in the education system at October's TalkBU chat session. Later this month (22 November), Dr Jane Healy will be talking about hate crime directed towards people with disabilities. Follow #TalkBU and @BU_Research on Twitter, or the BU Research blog for regular news, research and event updates.
The deadline for submissions to BU's annual research conference – Showcasing Undergraduate Research Excellence (SURE) 2019 is 20 December. For more information, visit https://www.bournemouth.ac.uk/research/showcasing-undergraduate-research-2019
REF Preparations
Throughout October, strategy meetings for each UOA were held, where members of RKEO's Impact team, UOA leads, impact champions and PDRAs agreed a plan of action for the submission of BU's impact case studies to REF2021. The REF website has a searchable database of all the 2014  impact case studies here.
Team Members: Update
We said goodbye to Jane Kavanagh-Lauridsen, who had been covering Genna del Rosa's maternity leave. She is off to the University of Southampton to be their Business Engagement Manager – and of course we wish her well.
Since the last KEIT post, four new Impact Officers have been working with the different faculties to help develop impact case studies and promote research impact generally. If you haven't already met them, they are: Amanda Edwards  (FST), Matt Fancy (FM) Amanda Lazar (HSS) and Brian McNulty (FMC).
If you would like support or advice on all things impact and knowledge exchange, please contact the relevant person below:
Research Communications Manager: Rachel Bowen
Research Facilitator – Industrial Collaboration: Ehren Milner
Engagement and Impact Facilitator: Genna del Rosa
Knowledge Exchange and Impact Officer: Daniela Doncakova
Knowledge Exchange Advisor: Ayesha Pyke
Student Engagement and Communications Coordinator: Isabelle Ralfe
Research Communication Coordinator: Sacha Gardener