We are delighted to announce that David Berezan (University of Manchester) will be joining us for a concert of multichannel electroacoustic in the Allsebrook LT on Wednesday 27th March at 7pm. All are welcome!
David will be playing a programme including some of his own work as well as that of electroacoustic composer Manuella Blackburn (Liverpool Hope University).
Admission is free but please register here: https://www.eventbrite.com/e/bu-loudspeaker-orchestra-concert-featuring-music-by-david-berezan-and-manuella-blackburn-tickets-59062063221
David Berezan is Professor in Electroacoustic Music Composition at The University of Manchester (UK), where he has acted, since 2003, as Director of the Electroacoustic Music Studios and MANTIS (Manchester Theatre in Sound).
Since 2000 he has primarily composed acousmatic music, though he has also composed and performed solo and ensemble live-electronics works. He is a practitioner and proponent of sound diffusion performance and the interpretation of fixed-media work.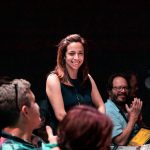 Manuella Blackburn is an electroacoustic music composer who specializes in acousmatic music creation. However, she also has composed for instruments and electronics, laptop ensemble improvisations, and music for dance.
Her music has been performed at concerts, festivals, conferences and gallery exhibitions in Argentina, Belgium, Brazil, Canada, Chile, Costa Rica, Cuba, France, Germany, Italy, Japan, Korea, Mexico, Portugal, Spain, Sweden, and the USA.