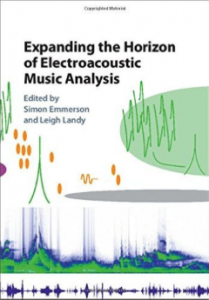 A new Cambridge University Press book Expanding the horizon of electroacoustic music analysis includes chapters by EMERGE members Dr Panos Amelides and Dr Ambrose Seddon.
Published on 7th April, this edited collection presents a state-of-the-art overview of analysis methods for electroacoustic music in this rapidly developing field. The book explains the needs of differing electroacoustic genres and puts forward a template for the analysis of electroacoustic music. It also discusses the latest ideas in the field and the challenges associated with new technologies.
Ambrose's and Panos's chapters appear in the final section of the book, which demonstrates new analytical methods in action. Ambrose's chapter focuses on the analysis of Andrew Lewis's Penmon Point, whilst Panos's chapter, co-authored with Prof Andrew Hugill (Bath Spa University), explores audio-only computer games, focusing on Papa Sangre.
More details are available here: www.cambridge.org/9781107118324