Without proper mechanisms for citizens of democratic societies to be meaningfully informed and to voice concerns over scientific advancements, they may find themselves stripped of the right to shape the science that shapes their lives, as well as losing voice in the larger public debate in which scientific rationality and expertise is needed
Associate Professor An Nguyen, from the Centre for the Study of Journalism, Culture and Community at BU, introduced his research into science journalism to the BU Cafe Scientifique audience last week, highlighting that ironically, the pace of science is too fast for citizens to follow, let alone have a voice.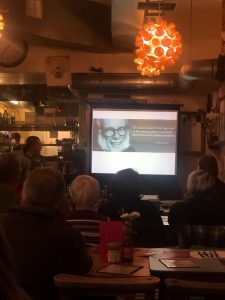 Examining how decades of intense and well financed communication efforts by science institutions to close the science-society gap have failed, An went on to stress that they would have to stop the traditional so-called top-down education model which assumes that the more people understand science and its beauty, the more they love and support it.
"People are not empty vessels waiting be filled up with one scientific fact to another," An said. "Much research has shown that scientific knowledge does not necessarily lead people to have a positive attitude to science. Science is an enterprise with its own values and defects and it has proved to be able to do both wonderful and awful things to life and humanity. Such issues need to be opened up to public information and debate because citizens are the main paymaster of science."
Therefore, he stressed, science communication must shift from educating people in a top-down elitist manner to prioritising facilitating open dialogues with the laity about both of its benefits and risks as well as its processes and ethical standards. "Research shows that such conversations are more effective to build trust in science over time, which is the precondition for public support for science."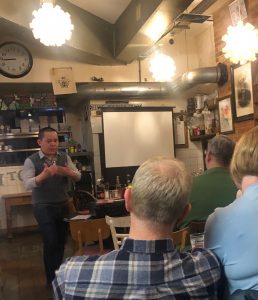 Finally, An went on to outline why journalism might well be the last of all institutions to provide such democratic dialogues about science and thus to help fix the science-society divide, especially in the wake of anti-fact, anti-expertise, post-truth politics.
"Journalism, despite its many defects, has the best experience and expertise to monitor science and its development, to tell science stories in engaging manners, to help lay people think critically about science and its social implications, and to facilitate democratic debate," he said. "That vital, almost exclusive, role of journalism needs to be reconsidered and recognised by science funders, scientists and other stakeholders in science communication."
Associate Professor An Nguyen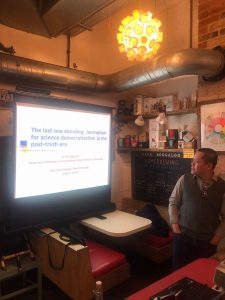 reflects on his experience of presenting at Cafe Scientifique last week:
"I had delivered dozens of talks to non-academic audiences and appeared many times as an expert in the media in Europe and Asia. But I had never had a direct conversation with lay people about my research. I thought it was odd, given that one strand of my research has been in public engagement with science. Hence, I decided to join Cafe Scientifique, which I knew has been a successful activity in Bournemouth and elsewhere in the world."
"I thoroughly enjoyed the experience. The small cosy coffee shop was fully packed with a diverse and engaging audience. I could see in it, scientists, hospital doctors, teachers, shop keepers, students and, best of all, a Year 8 grammar school girl who made some well-informed points and came to have a quick chat with me at the end."
"In many ways, it was an opportunity for me to pause and think of my worth to the larger society. Interacting with some people in the audience actually told me that there are quite a lot of things around in Bournemouth that I should have been aware of. And, overall, the whole thing is quite fun."


The next Café Scientifique will take place on Tuesday 7 May from 7:30pm until 9pm (doors open at 6:30pm). We'll be joined by Dr Anya Chapman who will be asking: What does the future hold for British seaside piers?
There's no need to register, make sure you get there early though as seats fill up fast!
If you have any questions please do get in touch
Find out more about Café Scientifique and sign up to our mailing list to hear about other research events: www.bournemouth.ac.uk/cafe-sci
You can also follow us on Facebook and Twitter