As the month of Pride begins, focus group research linked to a British Academy Small Grant project explored the benefits of water-based active leisure for a local transgender group. On Saturday 1st June, at Bournemouth Library in The Triangle, research participants shared their experiences of attending a local swimming pool during privately hired sessions. The cost of the private-hire sessions are covered by the BA Grant and this affords the group exclusive access. Initial findings reveal that such access means group members feel safe, and are able to support each other. Many of the group had stopped swimming and not visited a pool for a long time because of perceived and actual transphobia as well as feelings of fear, and becoming isolated.
The focus group covered topics such as: How important is physical activity to transgender, non-binary and gender non-conforming participants? How have the swimming sessions made you feel about your body? And, do you want the sessions to carry on? A transgender artist attended the focus group and captured the responses via illustrations.
The findings, so far, indicate the positive social and wellbeing aspects of attending the pool sessions. Physical activity was viewed as important in enabling good mental health. Having fun, feeling liberated and free, and being in your own body were common themes. At the same time, feeling unwelcome in public space, and changing room infrastructure presented barriers to active involvement.
During the month of Pride, we cannot forget that statistics indicate LGBTQ+ experience higher levels of anxiety, depression, and suicidal feelings as a consequence of feeling isolated, and experiences of rejection and bullying. Within the community, the figures are higher for transgender people (see: https://www.stonewall.org.uk/sites/default/files/trans_stats.pdf)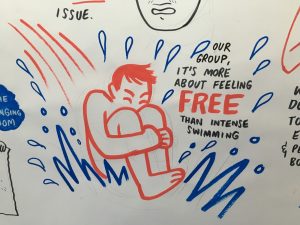 If you would like to more about the project please contact: Jayne Caudwell (jcaudwell@bournemouth.ac.uk) and Carly Stewart (cstewart@bournemouth.ac.uk)