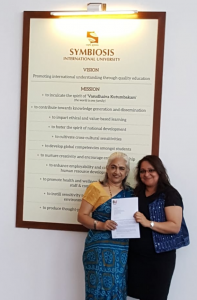 On behalf of Bournemouth University Dr Shanti Shanker and Prof Edwin van Teijlingen signed a research collaboration with Dr Anita Patankar of Symbiosis School of Liberal College (SSLC) in India.  This collaboration is part of a Research England GCRF-funded project.   Our collaborators in rural Ratnagiri District (Maharashtra) include Dr Shrutika Kotkunde, Dr Sachin Yadav and Dr and Mrs Reelkar to name a few.
Sheetal Astitva (meaning Calm Identity) is the name of our project which aims to understand the maternal health and state of neuropsychological rehabilitation in rural India.
Through Sheetal Astitva we will be developing a model of lay counsellors (LC) with focus to improve: a) Maternal mental wellbeing; and b) Neuropsychological rehabilitation and integrating a collaborative step care (CSC) intervention. The training will be adapted on empirical evidence and methods developed for India by Sangath (Shine et al., 2013).
One of intermediate outcomes of the project is to co-create a Non-Governmental Organisation (NGO) in India with the partners to be ensure longer-term sustainability. Sheetal Asthitva  will be working in India to improve maternal wellbeing and integrate neuro-rehabilitation in the community to enhance the quality of life and mental health.
If you are interested to know the updates, follow us on twitter: @AstitvaSheetal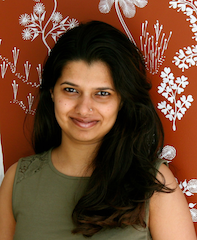 We welcome Dr Gayatri Kotbagi as local collaborator, who will soon be joining BU as a post-doctoral research fellow on this project!