It was with great honour that I attended the Erasmus Plus International Training Week at the Freie Universität Berlin for the week of 17th June 2019 after a competitive selection process.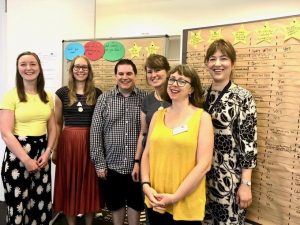 The theme was 'Career Service: Internships and Employment competencies – Developing an international framework for student work-based learning'. I was interested in attending based on current discussions taking place on campus, particularly with BU2025 and the institutional aims for employability and placement learning , and the general discourse regarding standardisation of placement learning outcomes within the overall higher education sector in the UK.
I thoroughly enjoyed the experience as we not only explored the current trends within the EU countries, but also had presentations delivered by delegates covering a wide scope of Best Practice topics and initiatives from across the globe. With approximately 30 representatives from over 10 countries, the scope of discussions was truly incredible. I was particularly proud to be one of six delegates representing UK institutions; Queen Mary, UCL, Oxford, Bath Spa, Edinburgh and Bournemouth.
For me, it was very interesting learning that colleagues across the EU have encountered similar issues, such as low student engagement, placement opportunities, the measurement of learning gain whilst on work based or placement experiences, and the general reduction of staff resourcing with an increase of students and those with additional complexities. Building up links with academics, more streamlined working, relevant and current support of students, impact of social media and more about what students want, impact of league tables and institutional reputation, amongst other key areas were also explored.
In conclusion, I think that greater collaboration and communication with our European colleagues is necessary to ensure that we in the UK can best prepare our students for an international career. However, this is only if the institutional aims on our campuses are going to place an emphasis on having internationally mobile and adaptable graduates. Whilst everyone who attended the Careers Section of the International Week were unanimously concerned about the future of HE in the UK, we can only wait and see if and how this will impact our work with students.