Last week Faculty Placement Development Advisor Vianna Renaud presented at the RAISE17 Conference at Manchester Metropolitan University.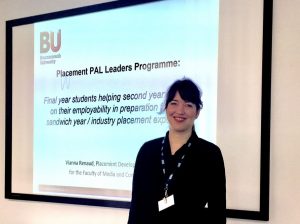 With over 235 delegates representing institutions throughout the UK and Ireland, this conference was focused on student engagement with the theme, "Perspectives on student engagement; looking forward..thinking back." This was the perfect event to share best practice and information regarding the latest trends in the sector.
Presenting on the campus wide Placement PAL pilot project last year, it was a wonderful opportunity to share with colleagues from a variety of institutions. I found the conference to be of great benefit as there was an open and collaborative atmosphere in the room. The delegates were clearly passionate about this subject area with the same desire to share and learn with colleagues.
RAISE is a network of academics, practitioners, advisors and student representatives drawn from the Higher Education Sector who are working and/or interested in researching and promoting student engagement.  For further information, conference programme and proceedings: