Events Management student Sabine Toppig delivered a guest lecture via skype to 50 Events Management and Events Marketing Masters students as part of the Contemporary Issues in Events Management (CIEM) unit.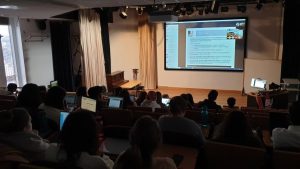 Sabine, who graduated with a first Honours degree, received her diploma as well as the VC Fusion Prize on Tuesday.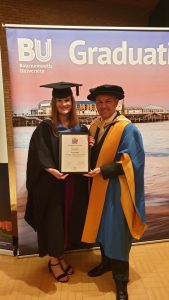 [Picture: holding the Prize with her dissertation Supervisor, Dr. Miguel Moital].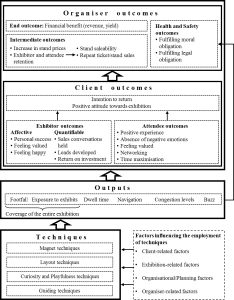 Sabine's presentation was based on her dissertation topic and focused on the techniques, outputs and outcomes of circulation management at exhibitions. One of the challenges Sabine faced during her placement was managing attendee circulation at the exhibition she managed. The topic intrigued her and she set out to research it as part of her dissertation. The detailed and comprehensive model depicting how and why circulation is managed at exhibitions embodies the spirit of fusion, as it can be used for academic, professional practice and educational/training purposes.
Back in July Sabine presented her research at the International Conference on Strategic Innovative Marketing and Tourism 2019 in Greece, funded by the Department of Sport & Events Management, and an article co-authored with her supervisor Dr. Miguel Moital is now under review by a leading Events journal.
Commenting on the experience, Sabine said:
It was a great experience presenting a topic which I loved learning about intensively during my placement and my dissertation research to an audience which is as passionate about the events industry as I am. I also enjoyed teaching the students something which I believe they could find useful, should they decide to pursue a career in exhibition management.
Abde Ali, the course rep for events management, shared the student consensus view about the presentation:
The presentation from Sabine was an unexpected aid and a much needed one. Her presentation provided us with a view to managing events that was not much thought about or looked into. She also talked about the experience of doing the dissertation and what was expected from us at our Master's program, while also highlighting the methods, skills, details and model to help the students during their dissertation. MSc Events would like to thank Sabine for her valuable time and contribution to our learning."
Dr. Miguel Moital, CIEM tutor, said:
Sabine did a fantastic dissertation and produced a detailed, visually engaging presentation which the students appreciated very much. Her in-depth understanding of a cutting-edge topic relevant to events management suited the CIEM unit very well. This is an excellent example of fusion and co-creation, and demonstrates how student research can enhance the learning experience at BU.